Entire Swedish Royal Family gathers for baby prince's christening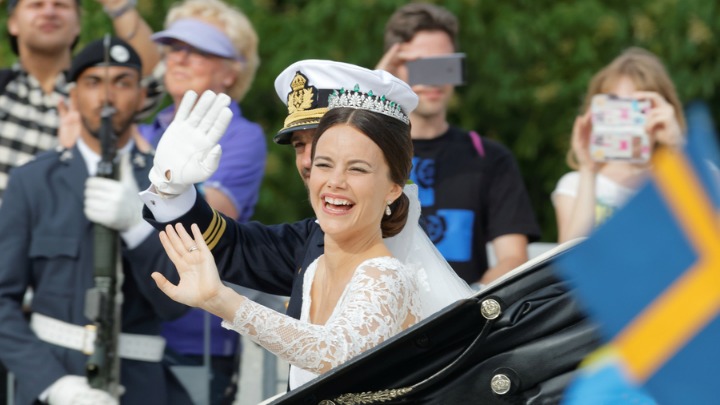 Prince Harry may have just been named the hottest royal in the world, but the Swedish Royal Family has just stepped it up a notch putting on a glamorous display at young Prince Alexander's christening.
Guests gathered at Drottningholm Palace Church overnight where the little prince, who is fifth in line to the throne, arrived with his parents Princess Sofia and Prince Carl.
The couple couldn't keep the smiles off their faces as they waved to the crowd and walked into the church for their first-born's big day.
Ad. Article continues below.
Also attending was Crown Princess Victoria and Princess Madeleine, as well as the king and queen – Carl and Silvia – who all dressed to the nines for the occasion.
Princess Sofia wore a beautiful white lace dress complete with a pearl headband, while her husband looked dashing in his Navy uniform.
Princess Victoria wore head to toe pink with nude heels to tie it all together.
Proving again that age is no boundary when it comes to style, Queen Silvia looked stunning in a purple skirt and jacket with matching hat.
Ad. Article continues below.
Ad. Article continues below.
While the British Royal Family is often named as the best dressed in the world, it looks like the Swedes might be coming for their title!
Do you love the gorgeous outfits on display? Who is your best dressed?