Neil Diamond retires following life-changing medical diagnosis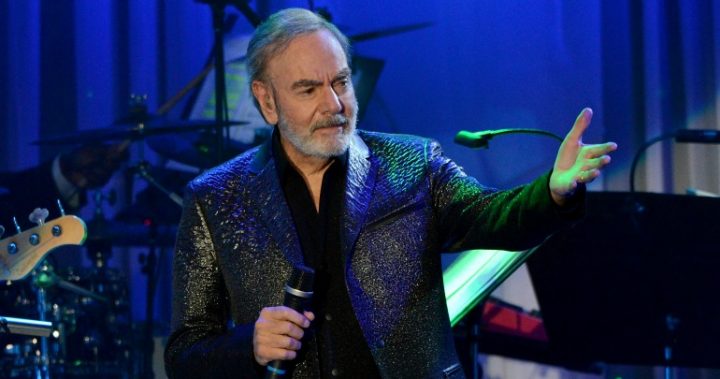 Beloved singer Neil Diamond has announced that he is retiring from touring after being diagnosed with a life-changing medical condition.
The singer released a press release on his website informing fans that he'd been diagnosed with Parkinson's disease and that he would be cancelling all remaining shows as part of his world tour. He had plans to travel to Australia later this year, but those concerts have also been cancelled.
"Legendary singer, songwriter and performer Neil Diamond today announced his retirement from touring due to his recent diagnosis of Parkinson's disease," the statement read. "The onset of the disease has made it difficult to travel and perform on a large scale basis but will allow Mr. Diamond to continue his writing, recording and development of new projects. Based on his doctors' advice, the third leg of Diamond's 50th Anniversary tour, set to land in Australia and New Zealand this March, has been cancelled."
The 76-year-old said that he was disappointed that he wouldn't be able to continue with touring. "It is with great reluctance and disappointment that I announce my retirement from concert touring," he said. "I have been so honoured to bring my shows to the public for the past 50 years. My sincerest apologies to everyone who purchased tickets and were planning to come to the upcoming shows. I plan to remain active in writing, recording and other projects for a long time to come."
He thanked his loyal and devoted fans around the world and said that he would always appreciate the love, support and encouragement that fans have shown him over his career. Neil was set to visit Australia in 2018 after selling out stadiums and arenas across America and Europe with his 50th Anniversary tour. Fans who purchased tickets will be eligible for a refund.
Ad. Article continues below.
Devastated fans sent their well-wishes to Neil shortly after he made the announcement. One person wrote: "So very sorry to hear this about Neil. He has been my favourite performer for such a long time. I was lucky enough to see him perform a few times and i will never forget them."
Another fan said: "Neil, I'm so very sorry to hear of your diagnosis and I wish you all the best. You've been my favourite performer since the 60s and I've attended several of your concerts. Your talent is limitless and it's really true that 'Diamonds are Forever'. Sending healing thoughts your way." A third added: "My first Neil Diamond concert was way back when he wore a white jumpsuit and could jump up on a piano.. my last, he no longer wore a jumpsuit and move much slower but his voice and his music was unchanged. Prayers for Mr. Diamond."
Do you have a message for Neil at this tough time? Did you ever see him perform?
---
Ad. Article continues below.
With Facebook removing news sites from your feeds we ask that you sign up for Starts at 60's emailers here. And to keep us on your wall, join some of our new Facebook groups and clubs:

News Junkies Club – Australia
News Junkies Club – USA 

See news on the change and links to all our other clubs and groups here.