Humble Celine Dion has a heartfelt message for loyal supporters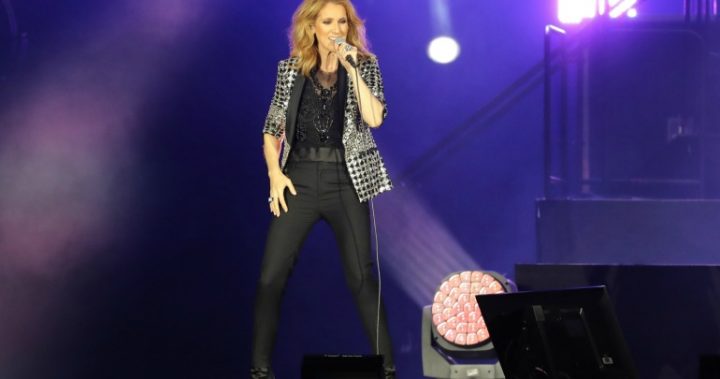 It's been a huge year for superstar singer Celine Dion, and she's counting her blessings that she got through it with the support of a dedicated legion of fans.
So the French-Canadian songbird recorded a heartfelt message for everyone who saw her shows in 2017, saying that her supporters were what made it possible for her to do her job.
Dressed in a very traditional Little Lord Fauntleroy-style velvet shirt in chocolate brown, with a white Peter Pan collar and bow at the neck, Dion praised her fans' dedication and loyalty in travelling to Las Vegas in the US, as well as across Europe, to watch her perform.
Ad. Article continues below.
"You sang with us, you laughed with us, you danced with us," she said in a video posted on Instagram.
"Without you, we wouldn't be able to do what we do. Thank you so much for your love and may you enjoy a peaceful and joyous and and safe holidays. Keep singing! Keep laughing! Keep dancing! And we'll see you in 2018. Love you!"
It certainly been a big year for the star.
She made a triumphant tour of Europe, playing 25 shows in 15 cities, in between which she wore a series of designer outfits so fab that she was dubbed one of the style icons of 2017.
Ad. Article continues below.
She even performed in a super-dramatic video for Vogue magazine.
Ad. Article continues below.
The49-year-old then returned to Las Vegas in September to resume her long-running residency at Caesars Palace, packing the 4,300-seat venue and thrilling the crowds with a mix of classics throughout the ages and genres of music, as Broadway World reported.
Ad. Article continues below.
It was also her first full year without beloved husband Rene Angelil, who died on January 14, 2016, after a second, long battle with throat cancer. Her brother Daniel Dion died just days after her husband, also from cancer.
She spoke often this year of not wanting to move on from her relationship with Angelil, who died at the age of 73.
He had been her manager from when she was just 12, and the couple started a relationship when Dion was 20 and he was 46, and went on to have three children together. 
Ad. Article continues below.
"I think I'll probably grieve for the rest of my life," Dion, who has repeatedly ruled out dating again, told The Sun in April.
Have you been following stories about Celine Dion this year? Have you admired her get-up-and-go, and her fabulous talent and outfits?