Actress Belinda Giblin's 'outrageous' return to television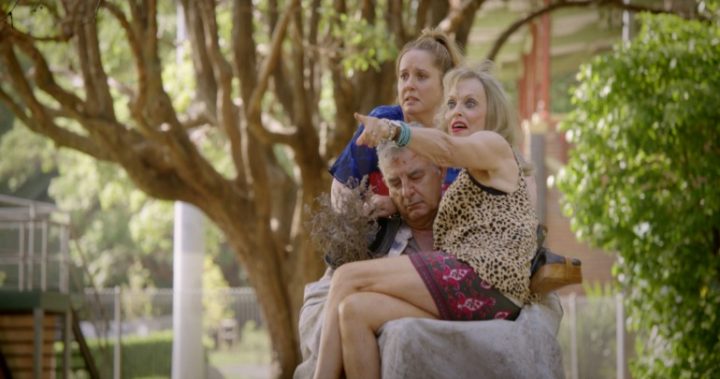 When Belinda Giblin first read the script for the television short series Bent 101, she thought 'no way'.
"No way am I doing that," the veteran actress said. "This woman is outrageous. She's like Patsy from Ab Fab.  She's bonking a telegraph pole."
Giblin told Starts at 60 that it was her co-star Maggie Blinco, while they were filming a movie together last year, who convinced her to play the role.
"The character I play is an old duck who is wearing a skirt that barely covers her fanny, shoes that are about six feet tall, and behaves appalling badly!" she said of the project that was entirely crowdfunded and was shot in Sydney. "She's an appalling character. It was nothing but fun. I couldn't have loved it more. I laughed my head off. "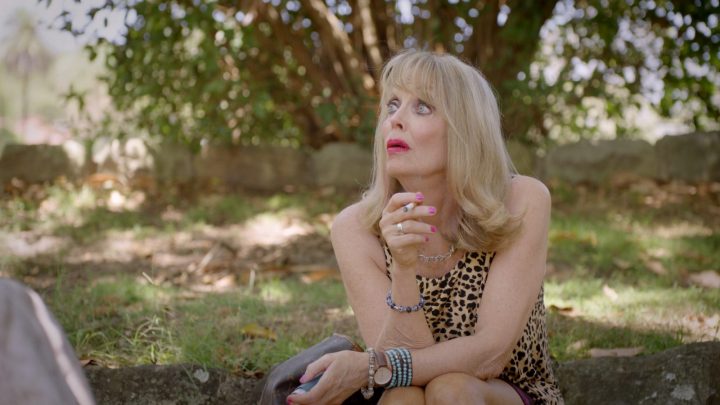 Bent 101 is a comedy currently being shown on PLUS 7 as a series of six-minute episodes with a continuous storyline..  You can also see it via the Bent 101 website, plus it will be screened on 7Flix from June 19 at midday and midnight.
Giblin's character is a stark contrast to the role she went on to next, playing a nun in the play Doubt. 
"I'm 67 now and I've never been so busy, and doing so many different things," the actress said.
Ad. Article continues below.
Belinda grew up in Tamworth, and knew she was destined to act.
"There is something intuitive in you from a very early age, pre-destiny if you like," she recalled. "My mother and father were very much in the business. My father was a doctor but he also had a brilliant singing voice. He was in all the local operettas, Gilbert and Sullivan, playing all the lead roles. My mother ran the dramatic society and directed and acted in plays."
She said growing up in Tamworth helped. 
"My parents were quite well known figures in town, involved in everything," Giblin said. "Tamworth was a cultural oasis back in those days. I'm talking about the '50s and '60s. It wasn't then the capital of country music. We had a conservatorium of music, we had shows come to town, and we would always billet all the actors. We would take part in every eisteddfod."
Ad. Article continues below.
"My grandmother, who was a huge influence in my life, was a hugely outgoing eccentric and she use to play charades with us," Giblin continued. "We just played endless charades or I would be dancing for her in the living room."
The star of screen and stage said she remembered a "blissful childhood".
"Life was easy and safe. We used to ride our bikes miles away from home and no-one every worried," she said. "We'd come home from school, take our uniforms off and take off on the bikes. Mum would say come home for dinner. It was a charmed life."
"When I moved to Sydney to go to university I couldn't have been more excited. It was in the days of Vietnam and the moratorium marches. It was an exciting time to be a university student. I was a bit of a hippie, I had long hair down to my waist and flower power was big. We all thought we bloody amazing."
"Back then university education was free. I actually got a scholarship to the Australian Ballet. Everyone who had half a brain went to university. I was quite an academic child. Quite an ambitious academic student, believe it or not. Watching Bent 101 you would hardly guess that I had any intelligence at all. I was an all rounder, piano, ballet, everything. I had a finger in every pie. When I finished uni I went to NIDA". 
Ad. Article continues below.
Ad. Article continues below.
It didn't take long for Giblin to get her big break, scoring a job at Crawfords.
"They had a stable of shows. I got into a Matlock, in black and white. I was in all of them; Division Four, Homicide, The Sullivans, Skyways, The Box. The Box was when I got quite a profile, then came the TV Week covers. Then I did Sons and Daughters, of course," she said. "I was pregnant with my son at that point. I had a five-year-old daughter. Then I stopped and said 'I want to do theatre'. And I have just been doing endless theatre, which is fabulous."
With that change also came a change in her profile too, she explained.
"The characters I'm offered now are so multi-faceted, so detailed. It all began when I made the choice to change direction. I played the glamorous, sexy women and I got very sick of that."
Ad. Article continues below.
She did a play with her daughter called Love Child, about a woman in her 50s whose daughter that she gave up for adoption comes to look for her.
"It was a very different role for me," Giblin recalled. "From that role, that wasn't glamorous at all, and was serious drama, not sexy at all, I got offered another play, then another. I started to get a very different credibility. People thought 'she's actually an actress, she's not playing herself'."
"The roles I'm getting now are very transformational. I couldn't have done as good a job without the life experience I have. Children and grandchildren now, I've had a life. The best work I have ever done I have done in the last ten years. It has been in theatre. I've won acting awards."
Ad. Article continues below.
Giblin has a full life besides acting. She also works a corporate trainer and is a regular babysitter of her grandchildren.
"It's wonderful. I am so glad I remembered to have children along the way. I have always been interested in life. If Im not babysitting, I'm being with my children, I have lots of good friends from all different areas of life; friends from university days, dog park friends, book club friends, I spend a lot of time doing cryptic crosswords," she said.
"I don't isolate myself, I'm out amongst people. I'm interested in people, I have a massive curiosity. My husband describes me as a meerkat!"
Which role of Belinda Giblin's do you remember best?