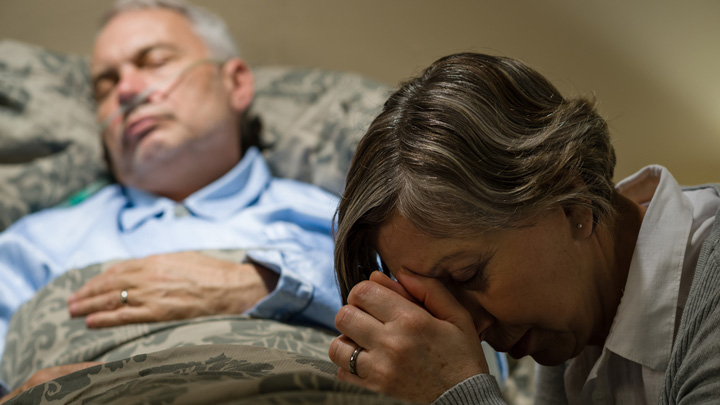 Euthanasia is never an easy topic to discuss, and in fact we often do not talk about it here at Starts at 60 as we are a site for living and being active. However this story was too poignant to pass up and we wanted to share it with you.
"I was extremely happy until my diagnosis," says Simon Binner. Simon was diagnosed with motor neurone disease, which was so aggressive that within six months, he was already virtually unable to speak. For a man who had always been the life and soul of the party, it was hardly bearable. He wanted to get off the ride.
How to Die: Simon's Choice on the BBC in the UK is a film about a man who wanted to kill himself while he still had the choice.
"I feel so strongly that this is not the right thing to do," said Debbie, his wife. Simon's diagnosis came just two years after her 18-year-old daughter's death from Ewing's sarcoma, after three years of illness. She represents the family members who dearly want to hold on, but ultimately it is the ill person's decision.
Before his diagnosis Simon was a successful self-made business man who was full of joy and laughter. He didn't want to die being heavily medicated or in palliative care – he wanted to die on his birthday. And once audiences saw his plight, they found his point of view was very understandable.
His 85-year-old mother planned to go with him to Switzerland. "I was there when he was born," she reasoned.
"If I was single, I'd be gone, definitely. But I'm not single and I have responsibilities to others that I'm only now beginning to fully understand," said Simon. As his counsellor at the Basel clinic tells him, "Those who have to let go do a much more difficult job than the people who go … Your wife has to go on living", reports The Guardian.
Perhaps what moved audiences so much was the range of all points of view on the topic of euthanasia. It's as complex as it is simple to some.
More than 1.2million people in the UK watched as businessman Simon Binner played a poignant last message to his wife Debbie from his deathbed before turning on the drip that killed him.
Tweets came in thick and fast with many saying they were left distraught and were crying as the motor neurone disease sufferer administered the life-ending drugs with a smile on his face.
Simon Binner's wife, Debbie, (pictured in the show) told MailOnline it was a 'beautiful documentary' and said she hopes it sparks a 'grown-up debate'. Many praised her on social media for bravely supporting her husband's decision
The documentary does not show the moment of death however it does show staff placing Simon in a coffin and putting on the lid.
Despite the controversy about the documentary the BBC has received fewer than 10 complaints.
Simon's final words:
'Hi Debbie, it's Simon here, I've loved you very, very much Debbie. I haven't deserved you or Hannah or Zoe. Such loving and caring young ladies, and I've been such a grumpy gruffalo for much of the time.

'But I really love you Debbie. We've had such a fun and laughter-filled marriage, we were really blessed to have found one another.

'The one blessing of a slow decline is that we've had time to speak about things over 10 long months, not like losing me in a car smash.

'We've really said everything that needs to be said. You've been a truly fantastic wife to me Debbie and I know that you loved me and I've loved you.

'Anyway, time and tide wait for no man, I love you very much Debbie. Goodbye'.
Recalling the moment her husband took his own life, she said: 'I remember Simon dying and I know he played a tape but I don't remember the tape. I remember the tenderness I felt towards him, I got him ready in the morning.
'I vaguely remember being on the plane… that's about it. We were just trying to get through it. What we had to go through to end his life, it was extraordinarily difficult. I feel I'm still in shock and in trauma. Someone is there one minute and not the next.'
'I haven't got the words to express how big a deal it is. I am missing him, I yearn for him. I am guilty that somehow I couldn't have made his life easier. Did I do enough? Did I do enough to make his life worthwhile when he had done so much for me over the years?'
The BBC denied it was promoting euthanasia.
A spokesman said: 'This is a sensitive observational documentary following one family's experience of assisted death, which explores some of the complex questions at the heart of this deeply divisive issue.
'The film does not serve to support either argument or intend to wholly represent the debate'.
Tell us, do you support euthanasia? Why or why not?
Comments