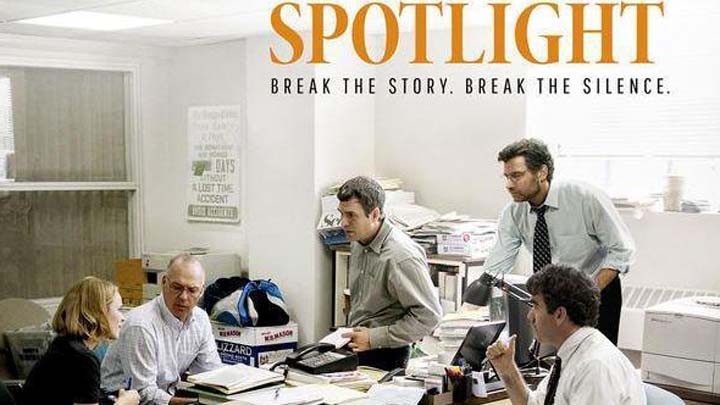 At a time when print journalism is trying to find its place in an electronic world, this film, just like "All the President's Men" reminds us that maybe, just maybe we can't do away with newspapers yet!
In 2001 when new editor, Marty Baron (Liev Schreiber) "the first Jewish editor in a Catholic town" arrives at The Boston Globe, he is perceived as an outsider because he's not from Boston and the team from Spotlight (a dedicated group of journalists who are employed specifically to write analytical and investigative stories) initially don't take to him.
The Spotlight team editor is Robby (Michael Keaton), and in an initial meeting Baron brings up a recent piece by a Globe columnist about the Boston Catholic Church's potentially suspicious dealings with various abuse cases. Baron suggests further investigation could be perfect for the Spotlight team. Robby hesitates, because approximately 53% of their readers are Catholic, but Baron gently pushes: "This strikes me as an essential story for a local paper."
All of the Spotlight reporters are local residents and have some connection to the Catholic Church. Sacha (Rachel McAdams) goes to mass on Sundays with her Grandmother. However, Michael (Mark Ruffalo) and Matty (Brian d'Arcy James) and managing editor Ben Bradlee Jnr (John Slattery playing a similar character as he did in "Mad Men") are lapsed Catholics but are persistent and determined to bring this into the public arena.
At first the team focuses on one defrocked priest, John Geoghan, alleged to have molested as many as 6 children over 30 years, but Baron urges them to remember that the story is bigger than just one corrupt priest. This exploitation is obviously systemic, but the key issue becomes: did Cardinal Law know?  
Of course, Boston being quite a Catholic stronghold, the team doesn't find it easy-going to get information. They find a survivors organisation who unfortunately gave all this information to The Globe 5 years prior but it got "lost in the system", and is reluctant to go out on a limb again. Eventually they discover that 98 priests in the diocese had been methodically "moved on".
The dogged determination of the Spotlight team, even working through Christmas Eve, gets them their break. This is a fact-based story and although the subject matter is very grim and oh-so-topical in Australia currently, it also has the hallmarks of a well-told detective story.
It is gripping and breath-taking at times and moves at a fast pace with brilliant acting by the entire cast.
On January 6, 2002, Boston Globe ran the front page headline: "Church Allowed Abuse by Priest for Years", but it was just the beginning, with two more Spotlight stories on the same topic ran that day, with more to follow.
The upheaval from the stories was so sustained that by the end of the year, Cardinal Bernard Law, the Archbishop of Boston, stepped down in disgrace, saying in a statement, "To all those who have suffered from my shortcomings and mistakes I both apologise and from them beg forgiveness." (Pope John Paul II gave him a position in Rome, where Law remains to this day.)
The Spotlight team won a Pulitzer Prize in 2003 for their reporting. It was the first news story to dominate everyone's conversations since September 11th, only a few months prior.
The cinema audience did not move or talk for the entire length of the film and many seemed glued to their seats even after the film was over. A well deserved nomination for Best Picture this year and A MUST SEE.
A little bit of trivia:
Bradlee Jnr makes a cameo appearance as a journalist with a notepad watching the fictional version of himself just after the scene depicting the Church's response on television to the 9/11 attacks.
Incidentally, Bradlee Jnr's father was the editor of The Washington Post, overseeing Woodwood and Bernstein's Watergate Scandal, which in turn became the film "All the President's Men" and eventually bought down a President.
ROKS FLICKS RATING: 5 glasses bubbly
Comments