Aldi bagged second place and 34 per cent of the vote, with their sausages found to be the cheapest per pack, per kilo and per sausage, setting you back $8.99 for 24. Its meat content was unspecified, although it did contain 97% Australian ingredients.
Coles came in last place, securing just 21 per cent of the vote, despite offering diners the lowest fat content. However its sausages did contain the highest amount of sodium (750mg per 100g) and lowest percentage of meat, at 70 per cent.
The snags from Coles were also the most expensive, costing $10 for 22. Although, at least 99% of its ingredients were sourced from Australia.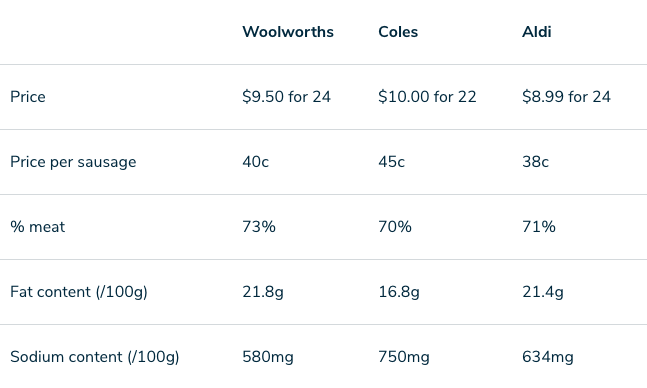 Read more: Woolworths and Coles snubbed as Australia's favourite supermarket revealed
Earlier this week, a separate CHOICE survey revealed which supermarket Aussie shoppers prefer, with Woolworths and Coles found to be failing to satisfy customers as much as smaller, local stores.
The consumer group published its customer satisfaction survey on Tuesday, revealing that the majority of Australians prefer to support lesser known supermarkets – with many claiming there is a bigger selection of local produce available.
And, although Aldi has gained a big following since it first opened its doors in Australia, the low-price German supermarket didn't take out the number one position either – with a South Australian franchise beating them all.
Foodland climbed to the top spot, receiving an overall score of 82 per cent, followed closely by New South Wales' Harris Farm Markets with a customer satisfaction rating of 81 per cent. The two were recognised especially for the wide range of locally produced products and the quality of fresh produce.
American wholesale chain Costco came next with 76 per cent, then Aldi on 74 per cent and rounding out the top five was IGA/Supa IGA on 73 per cent.
In sixth place was FoodWorks on 71 per cent and then came the major supermarkets with Woolworths just beating its main competitor Coles with 69 per cent and 67 per cent respectively. Coles didn't fair well in many of the areas, scoring the lowest of all supermarkets for its availability of locally produced products, quality of fresh food, helpfulness of staff, and ease and speed at the check-out.
However, it wasn't all bad news for the big brands, with Woolworths and Coles receiving high scores from CHOICE for their online delivery service.
Where do you like to buy your sausages? Do you agree with the results?