The impressive snap of the 14 relatives was posted by Michael's niece Kelsey on Instagram, with the caption: "A table of strong jaw lines, large appetites and a shared love for attention #FAMILY (missing a few key players: @[email protected] ) – family photos are tough." She also posted a sweet picture of herself with her grandfather Kirk who was sporting sunglasses and a trendy patterned shirt for the memorable occasion.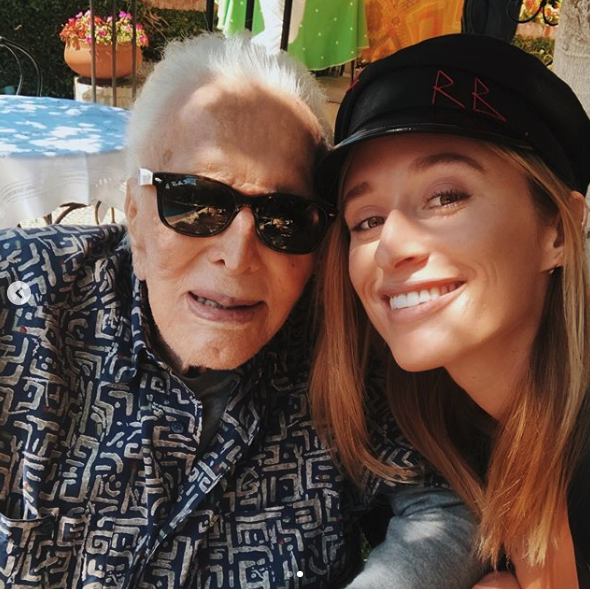 Meanwhile, Cameron also uploaded a similar post to social media, with the caption: "#Familyfirst." And fans were quick to comment on the image, with one writing: "What a beautiful family." Another social media user wrote: "What a beautiful family. Looks so fun." While a third added: "What an awesome photo. So nice that all of you got together." While another wrote: "Such a wonderful family photo!!! Thank you for sharing."
The tight-knit family often share loved-up photos of each other, especially when the grandchildren and great-grandpa Kirk are around. Earlier this year, Michael shared a gorgeous family snap of him posing alongside his famous father Kirk, son Cameron and his beautiful granddaughter Lua. He captioned the post: "Four generations of Douglas family love! #grateful."
Many people rushed to comment on the sweet snap, with one writing: "What a wonderful family photo of the "Douglas Generation" thanks for sharing." Another added: "Beautiful picture." While a third wrote: "Such a beautiful photo. You don't always see many photos of [four] generations."
Michael became a first-time grandfather last year when Cameron's wife Viviane gave birth to daughter, Lua. Cameron has shared several photos to his social media over the months showing Grandpa Michael and Great-Grandpa Kirk fawning over the little girl. One beautiful snap shows Lua reaching out to touch Kirk's hand as he keeps a watchful eye on her from his armchair.
One of the last surviving stars of Hollywood's Golden Age, Kirk's impressive career in Tinsel Town began in 1946 when he made his movie debut in The Strange Love of Martha Ivers alongside Barbara Stanwyck. He went on to star in a staggering number of hit flicks including The Vikings (1958), Lust for Life (1956), Paths of Glory (1957) and Lonely Are The Brave (1962).
The great-grandad has also featured alongside his son and grandson on the silver screen as Kirk, Michael and Cameron all starred in 2003's It Runs in the Family, with the real-life relatives playing three members of the same family. The movie was described by Douglas at the time as: "A black comedy about three generations of a dysfunctional family living in New York, and their attempt to reconcile".
He also boasts an impressive trophy cabinet, having won an honorary Oscar in 1996, a Golden Globe for his role as Dutch painter Vincent Van Gogh in Lust for Life, as well as a plethora of nominations for his most iconic roles.