Yes, a retirement village cruise ship really exists!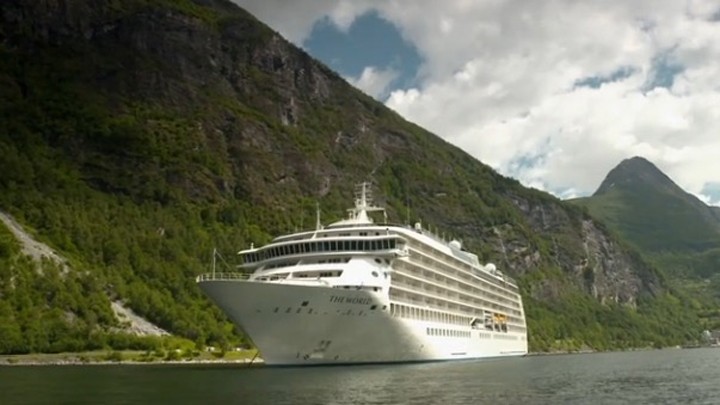 Forget going to a retirement village on land – they now have them on the sea! Imagine living out your retirement on the seven seas.
The World Residences at Sea offer a similar way of life to retirement villages on land, with 165 Residences aboard. They range from studios to expansive three-bedroom apartments and a palatial six-bedroom penthouse suite, which boasts accommodations for up to 12 people.
The World is the largest private residential yacht on earth where its residents travel the globe without ever leaving home. This community at sea first set sail in 2002 and has visited over 900 ports in over 140 countries.
The ship is privately owned by Residents of The World – who are currently 142 families from 19 countries – North America (49%), various European countries (36%), and Asia, Australia, and South Africa (15%), according to the website.
The ship has a Fitness Center which provides a wide range of state-of-the-art training equipment, workshops, personal trainers and group exercise options. A variety of off-Ship fitness excursions are also available from hiking and cycling, to snorkeling, diving and kayaking.
Ad. Article continues below.
MS The World features two swimming pools, a full-size tennis court, paddle tennis court, cricket, golf facilities with a golf simulator, driving ranges and putting greens, jogging track and a retractable marina for water sports.
According to the press release from The World, "Imagine a vacation home where everything is taken care of; a sanctuary where your every whim is known. Instead of returning to the same address, you're on an infinite voyage around The World to its most exotic ports of call. Whether you're anchoring off the coast of St. Barts and gazing at the rainforest, enjoying a sunset camel safari in Australia, or marching alongside king penguins in Antarctica, you can be as active or as tranquil as you like. Luxury is customised, exclusive and authentic experiences that money can't buy".
Tell us, would you retire on a cruise?