Things you can do at the airport while you're waiting for your next flight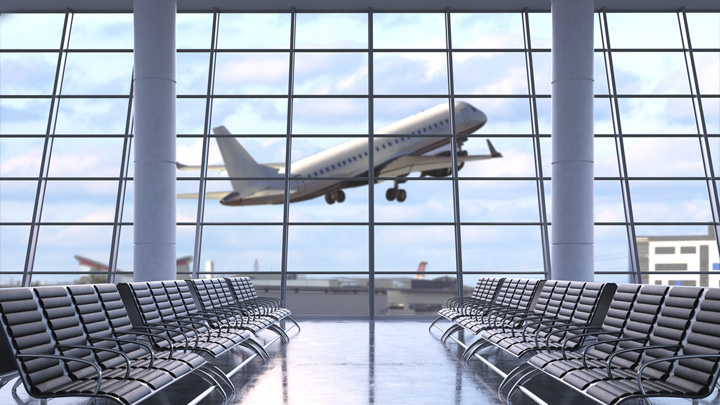 Ah, the dreaded stopover! Is there anything worse than 3 or more hours in an airport? Actually, there might be! Despite the hatred that stopovers get, they don't have to mean sitting at your gate watching the clock – you can sleep, eat, even go for a swim!
We have found some great tips for making the most of your long stopovers and ensuring you arrive to your destination feeling refreshed.
1. Work out
It might sound silly but with all the time in the world, why not do a bit of exercise? Be sure to pack a yoga mat and find a quiet space to do some stretching. It can help to get your blood flowing and circulation pumping. Some airports even have places specifically for travellers to exercise, or meditation centres.
2. Leave the airport
Ad. Article continues below.
Some airports offer fast and affordable transportation to the nearby city such as Amsterdam, Chicago and Singapore.
To make sure you'll have enough time, find out what kind of transport you'll need to take to and from the airport and research the locations of attractions you want to visit. You may want to focus on a single attraction to save travel time. Also be sure to allow plenty of wiggle room for traffic, long airport security lines and other things that could go awry.
You will have to check ahead of time to see if you'll need a visa to enter the country that you're arriving at.
Generally your luggage will be checked to your final destination even on lengthy layovers of up to 24 hours. If you need to pick up or hold onto your luggage during your layover, you can always leave it in the airport at a locker or Left Luggage facility.
3. Sleep
Ad. Article continues below.
Many airports have designated sleeping sections or special sleep chairs that can help you feel less awkward about it. Hong Kong International Airport, South Korea's Incheon International Airport and Vancouver International Airport offer comfy lounge chairs and padded benches.
4. Get a room
Consider paying for a hotel room in the airport, even if it's for a stopover that's only a half-day or so long – you may find it's really worth the cost.
5. Research the stopover airport
Find out if there are restaurants, shops, or other activities. Some have theatres, museums, gyms, or play areas for the kids; these usually are found in large cities. Check out the airport website for information. Make sure to find out if there is any service that allows you to deposit your baggage if you have some.
Ad. Article continues below.
6. Try to get in the lounge
Most airlines have VIP clubs at major airports where you can enjoy food and drink. If you are a frequent flyer member, inquire about getting a day pass – it could be worth it if you have a long wait.
7. Freshen up
Most airports have showers and a place where you can freshen up. This is especially useful on a long-haul flight to Europe where you might feel a bit stale from sitting in a plane for 14+ hours.
Quick guide to popular airports for stopovers:
Ad. Article continues below.
Singapore (Changi)
Singapore's Changi airport is often the gateway to the rest of Asia and may be your first or last stop before Europe.
Visit a garden – there's five themed gardens throughout the terminals. A must see is the Butterfly Garden in T3 terminal, followed closely by the Cactus Garden (T1), complete with open air bar and live music. Then there's the Sunflower Garden (T2), the Enchanted Garden (T2) and the Orchid Garden (T2) with rare and seasonal orchids surrounding a Koi pond. The Skytrain can take you between terminals every few minutes.
Have a free foot massage – there are free massages around the airport!
Take a swim – believe it or not, there's a pool at Changi. The pool in T1 costs $13 to use, and includes a free (non alcoholic) drink at the bar, so don't forget your swimsuit!
Watch a free movie – the airport's two theatres have movies on all day long so if you have time, why not do it?
Sign up for a free two-hour guided tour of Singapore
Have a snooze – make a bee-line for the Snooze Lounge at T3 if you're feeling tired. There's comfy leather chairs and a relaxing environment.
Dubai
Travellers flying to Europe will typically stop in Dubai.
Ad. Article continues below.
Take a swim – there is a pool in the airport that can be accessed for a small fee. It also has a fully equipped gym, jacuzzi, sauna and shower facilities.
Visit the Zen Gardens – This is an indoor oasis, just near gates B7 and B27.
Try the Snoozecube – If you've got time to burn and are exhausted, have a sleep in these cubes at gate C22 in Terminal 1.
Shopping – Dubai Duty Free is world renown and offers a wide selection electronics, clothes, chocolates, perfumes and cosmetics.
Seoul (Incheon)
Another gateway to Asia, and a stop if flying with China Southern Airlines.
Free computers – If you don't have your laptop or smartphone on you, you can use the computers.
Have a putt at the golf course – There is a golf course just outside Incheon airport.
Watch a movie – You can catch a film at two of Incheon Airports movie theatres.
Skate on ice – if you're with the grandies, you can take them to Incheon Airport's ice skating rink for a small fee.
Have a tradition Korean cultural experience – Make traditional Korean crafts and see traditional Korean musical and dance performances for free.
Visit the Korean Culture Museum – Get your fix of Korean culture without leaving the airport.
Abu Dhabi
Ad. Article continues below.
Travellers flying to Europe may stop in Abu Dhabi.
Relax in a reclining seat
Take a refreshing shower and enjoy 5-star food – the Al Reem Lounge or Al Dhabi Lounge (even if you're not flying First or Business Class) are the places to go to truly relax and get ready for another long flight.
Go duty free shopping – browse a wide selection of international and Middle Eastern brands at Terminal 1 or Terminal 3's world class Duty Free shops.
Surf the net – free Wifi is available throughout the airport.
Tell us, what did you do on your last stopover?