Fran Kelly like you've never seen her before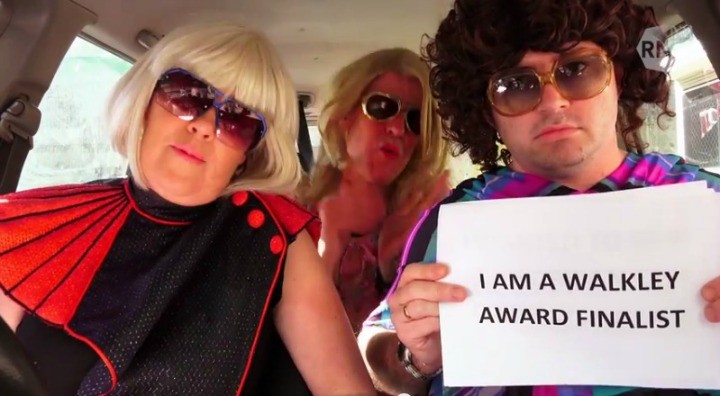 We are loving this hilarious parody created by Radio National's femme formidable and her RN Breakfast radio team. Ms Kelly was interviewing three perky Internet sensations on her show and decided, "hey, we can do better than that!"
After a quick trip to the ABC's costume department, Ms Kelly and her sidekicks lip-synced to the 80s classic Video Killed the Radio Star, poking fun at the ABC and its managing director Mark Scott, and also the anti-ABC Twitter hashtag #theirABC, which flags incidences of the broadcaster leaning too far to the left.
The droll comments from po-faced James Carleton are a highlight, they include "I wanted to be a foreign correspondent" and "You're paying for this".
The inspiration for the clip was Australian comedy trio SketchShe, which has rocketed to internet stardom with a series of videos filmed in their car on an iPhone. In just six months, the trio has attracted 250 million views across all their videos, the first of which was an an homage to Queen's Bohemian Rhapsody.
Ad. Article continues below.
The three performers are Shae-Lee Shackleford, 28, is currently writing, directing and producing her own short film, The Anti-Social Network, television host and actress Lana Kington, 25, and professional model Madison 'Maddy' Lloyd, 28.
Their breakout hit  was followed by the epic "Mime Through Time', a ride through the ages featuring artists from Elvis through to Miley Cyrus.
The Sydney Morning Herald reported that the ABC boss seemed to be in on the joke, posting the video to his Facebook page with the caption "What has happened to the ABC? What has happened to Fran Kelly and RN Breakfast?"
Fans on the Breakfast show's Facebook pager were begging for more.
What do you think? Should Fran Kelly and her crew give up grilling politicians and embark on a new comedy career?