Baby falls out the boot of grandfather's car on highway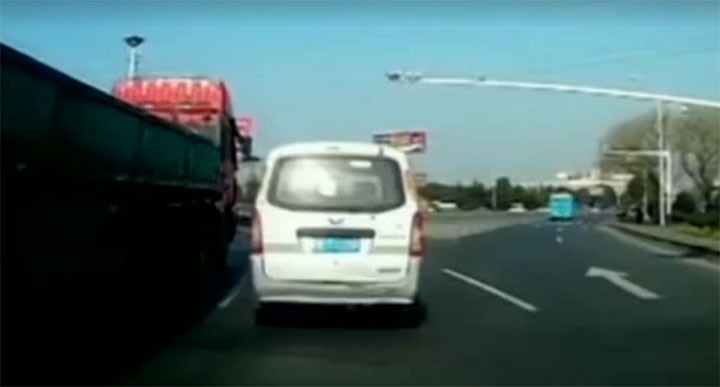 In a frightening moment, a grandfather driving a minivan in China has been filmed on the dashcam of the driver behind him as a toddler has fallen out of the back of his car and onto a highway.  The child has tumbled onto a highway and then bounces up straight away into the oncoming traffic to wonder what on earth is going on around it.
The child was apparently a 2 year old boy, and the car behind then stopped to collect him.  Another car chased down the grandfather and stopped him so he could be reunited with the child.
Ad. Article continues below.
The grandfather said it happened after the rear of the car had been damaged in an accident the day prior.  A Chinese newspaper, Wujiang Daily, said  that the child initially had been sitting in a passenger seat before crawling back in the van as his grandfather drove and accidentally hit the broken lock as the vehicle accelerated from an intersection.
"I was waiting at the red light. After passing the intersection a car chased after me and kept sounding the horn," Yang told CCTV. "The driver told me a kid fell out of my van. I looked back, parked my van aside, and went back to search for my grandson."
The dashcam video has gone viral online, and many asked why the child was not in a child seat.
Astounding?