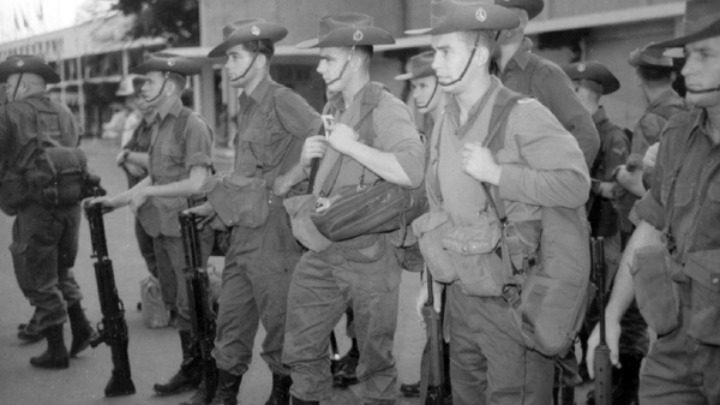 The remains of 33 Australians, who were buried in military cemeteries in Malaysia and Singapore, have been returned to Australia.
And while hundreds of people gathered at the RAAF Richmond airbase to see one of the largest military repatriations in Australia's history, Malcolm Turnbull was inspecting a $75,000 mattress and Bill Shorten was eating oysters and patting a rat at the Sydney Fish Markets, reports Herald Sun.
Former NSW Premier Kristina Keneally says Malcolm Turnbull and Bill Shorten should have been at the repatriation ceremony of military servicemen in NSW today.
"It's a misstep" from both leaders, she said to Herald Sun.
She said it was especially perplexing because the PM and Opposition Leader are both in Sydney today.
The Prime Minister and Opposition Leader were obvious absentees from the service where the bodies of 25 veterans, two spouses and six children repatriated from Singapore's Kranji Cemetery and Terendak Cemetery in Malaysia where they were buried five decades ago.
A member of the public, Samantha Hudson said, "Those days, our soldiers were treated badly. They were spat on and yelled at for fighting a war people were against. And now, it looks like nothing's changed."
Those gathered for the repatriation ceremony include several hundred Vietnam War veterans, servicemen and families of those who died.
ABC reports, the remains include those of service personnel and dependents interred at Terendak Military Cemetery in Malaysia, and the Australian who died during the Vietnam War and was interred in the Kranji War Cemetery in Singapore.
Vietnam veteran Lieutenant Colonel Ian Henderson said it was "wonderful" to see the remains returned to Australia.
"When I saw the smoke of the nose wheel of the second aircraft I thought, they're at home," he said.
"In a way it's the culmination for Vietnam veterans that it's happened. That none of our compatriots are left overseas.
"The Army went to great lengths to discover those who had been missing in action, at great lengths to find their bodies a couple of years ago.
"This is right that this ought to happen and bring them back as they have."
Office of Australian War Graves director Ken Corke said it was a moving event for loved ones, "We're pretty clear now that there's going to be a range of different emotions today. [People will be] extremely happy that the 50 years of waiting has finally come to fruition," he said.
"But equally for some, the grief is as raw today as it was 50 years ago. And for some of them, they will find it a very difficult day."
How does this story make you feel? Is there any excuse for any critical government official to miss this ceremony?
Comments