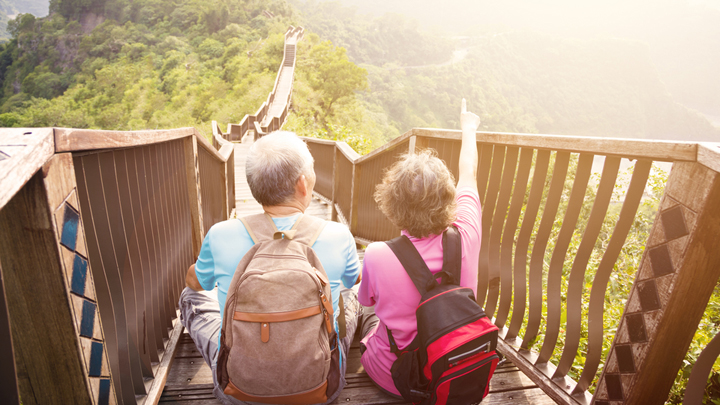 Have you ever wanted to visit Burma, Borneo, Belize, Bali, Brazil, Britain, Buenos Aries, Bolivia? And then you have thought you cannot do it, that it is too hard? Well as a backpacker you can; it is not difficult.
My husband, who is my favourite adventure companion, and I have been backpacking around the world for the last 40 years. We do not go on conducted tours and cruises, they are not for us. We like the freedom and independence of being travellers who can always go and see what is around the corner.
We are snorkellers and have travelled to many out of the way and unusual places seeking the best coral and variety of fish we can find. We have adventured to see wildlife in their natural habitat and enjoyed that special jaw-dropping feeling of seeing something you have read about and always wanted to see for real. Wonderful sights like Machu Picchu in Peru, Kingdom of the Incas, the pounding throbbing enormous Iguaçu Falls in Brazil and Argentina or the Taj Mahal in Agra in India or swimming with the giant manta rays in the Raja Ampat National Park off West Papua. Our experience of swimming with giant manta ray in a national park the size of Denmark, untouched by human hand off the tip of West Papua, was awe-inspiring. The water was so clean, no rubbish, no plastic and no cars. It was quite a mission to get there flying to Bali, then to Ujung Pandang, then flying to Sarong and then ferry and speed boat to our island destination. Was it worth it? Yes, it surely was. The coral was the most pristine we have ever seen around the world.
Safety
The key to being a good backpacker and travelling safely is being prepared and to having some understanding of where you are going and what is expected of you in the country. It is important to travel modestly and try to communicate with local people, observe the customs and culture and not shout or talk down to local people, especially if you are having travel or shopping difficulties.
Research
When we first start thinking about a trip we research and read about the place, how can you get there? Are there any safety concerns? What are the health concerns? We obtain the Lonely Planet book which is a bible for backpackers and again research what is important to see and where it is, and how far away it is from another place we want to visit and how we could get from one place to the other.
Airfares
We then start looking for a good airfare. Plane fares differ very much, there can be hundreds of dollars difference in fares. With the efficient search engines on computer it is easy to search different airlines to find the best fare.
We have travelled on a wide variety of airlines. If it is an airline we do not know I look into the safety record of the airline. Booking tickets on the internet is easy and we have never had a problem. Sometimes they are code share with a larger airline. We booked to go from Gatwick Airport to Morocco, went to the airport and found where this random airline was to go from. We waited and searched but to no avail for the check in counter – finally two people arrived carrying the sign of the airline and opened up the check in, we were slightly hesitant but were reassured that this particular company had so many seats on a main airline flight and that is how you can obtain cheaper tickets.
We have always looked for the best price as we feel you can use the balance of the money to travel for longer and further.
Once the planes are booked we work our a basic route for the number of days we have to travel and look to see if we need trains or ferries to link up our journey or flights for particularly long journey. It is always possible to get internal budget flights.
As with plane fares, the same applies to trains and ferries book early so you can save money. There is a wonderful train site called "The Man in seat 61". You can see any rail journey in the world and timetables and you can book your seat. We like train travel. Two years ago travelled in India sharing night sleepers with a variety of people. The sheets and pillow slip were left in a brown paper bag on your bed. Even if someone had been sleeping on your bed from say Deli to Agra and you got on in Agra they did not open your brown paper bag and left it for the person who had booked the sleeper to open the clean bedding.
Accommodation
Returning to the planning, as we have become older, we now book our accommodation before we leave New Zealand. We like to stay in small family hotels or backpackers hostels. We have always found this to be a much more enjoyable experience than Western chain hotels. Not only do these hotels cost an exorbitant price, you could be staying in the same hotel anywhere in the world, and eating the same food as in any other chain hotel. I know that many people like the comfort and security knowing the hotel chain will be the same where ever they go, but that is not for us.
The small hotels in India were magnificent in Jodhpur. We stayed in an old palace where British royalty had stayed for tiger hunting, we even found in one room the poor tigers on the floor as rugs and in glass cases. In Morocco and Turkey we stayed in magnificent old homes that had been refurbished in the traditional manner, these hotels and hostels are significantly cheaper than the Western chain hotels and provide a fair more authentic experience for you as a traveler. In Raja Ampat we stayed in a palm frond hut over the water with a shared mandi bathhouse. We used to look around when we got to a particular place and find somewhere to stay but we now research on line and book before we go. As we have become older it is easier to know where you are going when you get there.
Health
The next planning to be done is your health, we have a complete checkup with our doctor ensure all our injections are up to date, we have had many over the years. A handy hint if you have to have more than one do not have them all at once, it made me feel very ill, so I always space them out over a few weeks. Make sure you have enough of any medication you are taking and a good first aid kit. If you do get sick in a country that does not speak English, be prepared for a variety of things that might happen. In Indonesia for example if you consult in a pharmacy members of the public are likely to join in the discussion and offer suggestions, as the pharmacies are often open to the streets. Have a good language guide as you will need to use that for the consultation in the pharmacy. I have had on occasions ended up having to mime what the problem is to the pharmacy staff and the onlookers from the public. I am a poor flyer and take a pill to enable me to fly. My bag was stolen and I faced a long trip back to NZ, the mime of the fear of flying was interesting, it was like a TV game show. It was successful.
In summary, the life of a traveller is wonderful, thrilling and an exciting time. It is not as easy going as it would be on a 3 week conducted tour, where everything is arranged for you. We sometimes say the life of a backpacker is like work, you need to work it out yourselves, as you continue your journey. But it is what we have done for the last 40 years. Our children are all backpackers, as are our grandchildren, combined together, our family has been privileged to visit many different cultures and communities around the world.
Tell us, would you go backpacking?
Comments