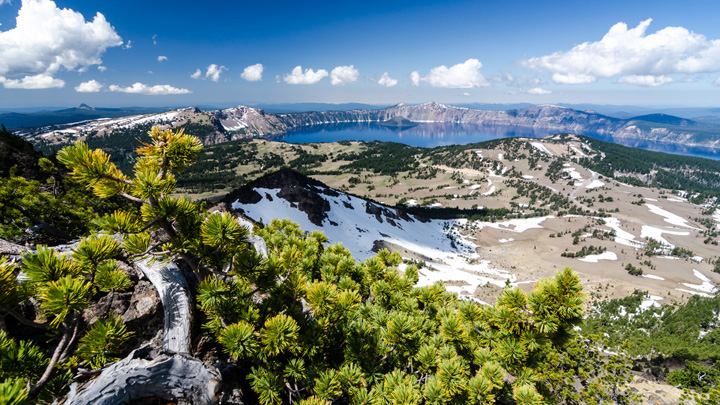 "It's a long way with not a lot to see," Bill had warned us, but there was a resonance in his tone that indicated the attraction had a worthiness that made it worth going that long way. It had also featured in much of the literature that we'd digested. It seemed like the best option so we headed south for 2 hours along a road "…with not a lot to see".
The last section was a bit eerie. Turning off the main highway there's a dead straight road ahead as far as visibility allows, not the sort of thing we'd come to expect in volcano land. Once you take the turn off to Rim Drive it all changes as you divert around all sorts of volcanic remnants.
The lake is the deepest in the United States, 1,943ft at its deepest point and almost 10kms across; its highest peak is Mount Scott (8,929ft) which gives you some idea of the monstrous upheaval that took place here. Yet the statistic I find most interesting is that there's a 30 foot long hemlock log that's been floating around upright in the lake for over 100 years. From time to time I imagine it runs into the iconic Phantom Ship Island, a small but much loved and photographed outcrop that pales in size beside Wizard Island but it's the phantom that gets the cameras clicking. I still find it hard to believe that seven different species of trees live on this tiny jagged outcrop.
Another feature we find interesting is Pumice Castle. When Mount Mazama collapsed, parts were eroded away but the hardened base of the castle resisted and today stands as a colourful remnant of historical upheavals.
We lunch at Whitebark Pine Picnic Area, amused by the squirrels doing their usual scampering, and learn how harsh a climate it is in exposed areas. The constant lashing by prevailing winds means the whitebarks only grow one way, the other side is beaten to a pulp by an area that gets over 40ft of snow on average, though the record is 73ft and the deepest amount laying on the ground at one time was 21 ½ feet.
Cloudcap Overlook is the last lookout we spend time at; it's the most easterly of same and the uninterrupted view gives you some idea of just how cataclysmic the collapse must have been around 7,700 years ago.  Building up to a height above where we now stand and then plunging nearly 3,000ft into the abyss must have been an epic spectacle; hard to get your head around in fact.
In the near distance is the sharp prominent peak of Mount Thielsen (9,182ft); it's an eroded horn shaped pinnacle of a shield volcano, and apparently, despite its appearance, not that hard to climb.
Soon it's all behind us and we're headed off to our final up-close volcanic experience, the Newberry caldera, in particular the Big Obsidian Flow. This is something I've been wanting to see but, as it turns out, Lorraine seemed to get more from it than me.
At the carpark you're almost surrounded by imposing volcanic flows before you set off between some trees, soon reaching the path onto the rock. 
Apparently all that we're climbing was caused by the one flow, but it had different layers that came after the magma erupted violently. The airy pumice below was foaming, writhing, at times exploding 50ft bubbles of air as it frothed its way over the ground.
The main flow above was at almost glacier-like pace and the obsidian was intermingled, being contorted at times by the explosions. Obsidian is a rare mineral, being almost pure silicon, and to see it in the raw like this is extraordinary. Because it's glass, the rock shines like a highly polished soldier's boot and stands out from all the pumice that is blighted by air bubbles. It's black because of a few magnetite crystals that have coloured it and there are some amazing stories about this rock.
Scientists from NASA came here in the 1960s and extracted drinking water (it contains 0.2%) and proceeded to drink it. Even more extraordinary in the 1970s was when doctors performed open heart surgery on archaeologist Donald Crabtree. Crabtree had fashioned scalpels from the obsidian and they used both those and normal steel scalpels during the operation. Where the obsidian was used the skin healed with hardly a trace while deep scars were the result of the normal ones. Obsidian can be sharpened to almost one molecule in thickness.
In ancient, and not so ancient, times, it was traded as a valuable commodity for cutting tools and arrowheads. I feel privileged to have touched such a rock while, judging by her reaction all the way around, Lorraine fell in love with it.
We also stopped at Paulina Falls which, at times, can be spectacular but, after all the ones we've seen this trip, it's really just another cascade.
We were tired by then and the chief cook thought it would be a great idea to find a Thai restaurant in Bend for the purpose of dinner.  The chief bottle washer agreed with that idea, but he didn't care where he ate.
We found a place that had been recommended called Noi Thai, an upmarket establishment with excellent food.  The decor was even more memorable with huge light shades hanging from the ceiling and intricate classic Thai art on the walls it was hard to believe that we were in America.
Share your thoughts below.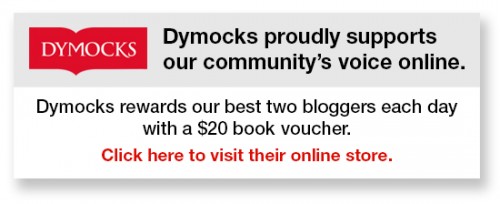 To write for Starts at 60 and potentially win a $20 voucher, send your articles to our Community Editor here.
Comments