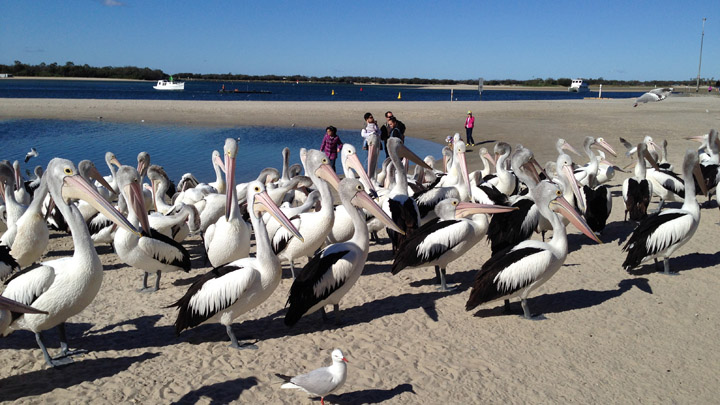 Do you enjoy a seafood smorgasbord lunch?
And would you enjoy it even more if it were free?
What about if the waiter threw you one fish at a time?
That's what happens at Charis Seafoods in Labrador on the Gold Coast. But you can't get a seat for this luncheon – it's strictly pelicans only!
Australia is home to around half a million pelicans and like the people who also live here, these large waterbirds flock to the coastal waters. They follow the food around – so when the vast interior of Australia floods – as it does every couple of years, the big, pre-historic birds head inland.
Except for those who live on the Gold Coast, they have abundant food supplies all year round, in the Broadwater and from the back of Charis Seafoods!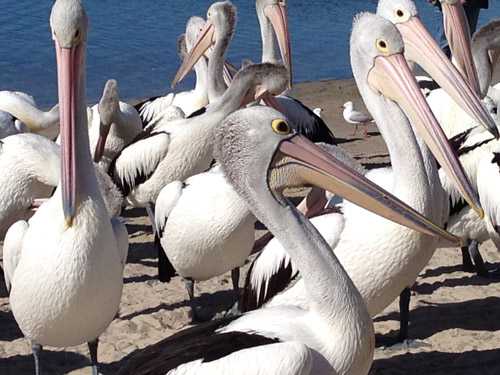 The pelicans can tell the time!
Each day there's a 1.30pm gathering. The birds know that when the big whit buckets appear at the top of the steps, they need to scramble for pole position.
For ten years, it's been the same routine, but every day a different number of birds turn up. On average there will be 150 very large bills limbering up for the catch.
Fish is the pelican's natural diet and here, that's exactly what they're getting. The off cuts from the fishmongers are cut into bite sized pieces and kept in the white buckets during the morning preparation.
Seabirds that eat fish, all know that the only way their food will do down safely, is head first. So when the pelicans appear to be playing with a piece of fish…they're actually getting it in the right direction.
You can see them doing this in our video:
The lunch time diners are very fond of Barramundi and Salmon, but they're not too keen on the spiky Flat Head! One of the most amazing things about this communal dining – is what appears to be excellent manners! Once the birds catch a fish, they move away from the orderly rows on the steps, and allow the next row to move closer!
Since we've been house and pet sitting in different parts of Australia, we come across stories just like the pelicans. It's a part of living like locals and enjoying what that location has to offer.
So far we've enjoyed spending a month in the exquisite Adelaide Hills of South Australia last October, where we had the privilege of staying on a large property with a pool, a tennis court and a large garden. We loved looking after the sheep, he had real character, and the 5 hens gave us fresh lovely eggs every day.
For two weeks we lived in a 5 bedroom, 3 bathroom contemporary home on the Gold Coast. It was sheer luxury with a pool, a movie room with Netflix and a golf course as a backyard. The best part was the little black Moodle, she was full of fun and cuddles.
A fortnight in Fullerton Cove north of Newcastle in NSW, gave us a first-hand taste of what life is like living in a gated community for over 55s. This kind of living suits some people perfectly, it's friendly, supportive. Walking the two affectionate poodles was the perfect way to get to know everyone. Plus it put us on the doorstep of the gorgeous coastal landscape of the Port Stephens region.
Neil and I are currently putting together our travel plans for Europe, giving us another 9 months of house and pet sitting for our series called "Village to Villa".
Our next stop is France! Then we go to the UK and finish up in Italy.
We hope that you will join us along the way.
All you need to do is go to www.villagetovilla.com and let us know how we can reach you.
Comments