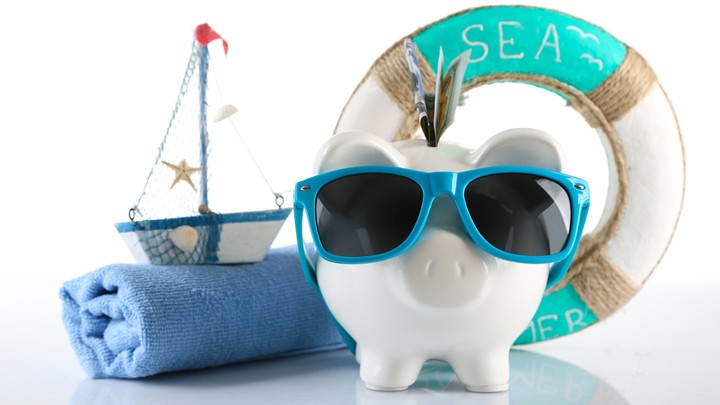 You hear it so often, how retirement creeps up slowly and you wait impatiently for that magical time when there will be all the time in the world to do things and enough money in the bank to make all those long-wished-for dreams possible. Then once it eventually does drop by say 'hi', you find the super fund doesn't hold quite as much as you thought it would, so many of those fabulous travel dreams start to slip away into that faraway 'Neverland'.
After my position as a court reporter was made redundant almost three years ago and when my husband retired 18 months later, we found our super balance was not quite what we had imagined when we first started planning for this period of our lives about 12 years ago. Thankfully, we have still been fortunate enough to share several amazing holiday experiences, all by ferreting out bargains on the internet and utilising a wonderful little charity scheme called 'The Entertainment Book'.
Without going to too much trouble, we have found ways to enjoy both short and long holiday stays in all sorts of places, along with being able to dine out once a week in lovely restaurants and quaint cafes at a fraction of the cost. There are several options available and here are three beauties we've discovered along the way.
www.airbnb.com.au
This is a great website to discover private, semi-shared and shared accommodation all over the world, often at very reasonable prices – and usually with breakfast of some sort thrown in. You just enter the destination, dates required, style of accommodation and price range, and several options pop up for your choosing, both in your actual chosen area as well as a little more further afield. Just make sure you check out the range of services/amenities on offer for each one to ensure all your needs are catered for … and voila, you can book safely online. Our choice is to use PayPal, which offers a high level of security for those who are concerned about internet scams.
We have utilised this website on several occasions and found the accommodation well suited to our needs each time – and most is within easy reach of public transport.
House-sitting opportunities
For those who are willing to take on a little responsibility while getting to explore a new area, one other option we have found to be excellent is house-sitting for a private customer … and it's FREE, although the house-sit usually entails taking care of an animal or two, or maybe just a garden that needs a little love and care while the owners are away. Sometimes both are part of the deal but all you have to do is put in your choices for whatever you are prepared to take on, as well as the dates and area you prefer, then any listings that match your requirements are displayed on screen. These can be harder to come by for the exact place and dates you may prefer, but if you are flexible with either/or, then this can be a great opportunity to discover a new place while doing someone else a favour … and all without having to dip into your hard-earned savings. With a fully equipped kitchen included in the deal, if your budget is tight it means the only food expense would be those normal everyday items you purchase while at home.
Most of the house-sitting websites have an annual fee which is set at a reasonable rate. Once that is taken care of, the accommodation itself is free … nada … zilch!
My husband and I were on the receiving end of a free holiday by the beach at Williamstown on Port Phillip Bay in Victoria last Christmas. We found it to be an easy way to explore the area, as well as take a few day trips further afield while caring for two very well mannered small dogs and a cat that only came around for dinner and then disappeared again. The home itself was very comfortable and being so close to the beach meant the dogs expended their energy on a daily walk while we enjoyed views across to the Melbourne CBD and along the city beaches of Port Melbourne, St Kilda and Elwood.
The Entertainment Book
This is a great little money saver for participants – and a much-welcomed fundraising opportunity for charities. You choose your favourite charity and by doing so it helps to inject over $6 million each year back into charitable and community organisations across Australia and New Zealand.
Each Entertainment Book offers a range of services including:
Either two-for-one or 25% off the total bill dining offers of every flavour and cuisine imaginable – from five-star restaurants to quiet out-of-the-way cafes, through to take-away chains of every kind … even your favourite ice-cream or pizza chains offer great deals;
Two for one entertainment vouchers, e.g. movie tickets; sporting events and cultural activities; theme park offers – there's even a chance to go hot air ballooning at a cheaper rate!
50% off the rack rate of hotel and resort rates; 5% off Virgin Australia flights and Emirate deals; beauty and fashion offers; car hire, travel insurance and cruise offers; flower and gift deals; cheaper rates for gift cards; homeware deals; even magazine subscriptions, cheap car washes and 2 x $10 vouchers from Chemist Warehouse – and loads more!
Although most Entertainment Books are only available for Australian and NZ major cities and their outer suburbs, some can also be purchased for areas further afield. These include: Gold Coast and Northern NSW; Sunshine Coast (included in the Brisbane EB); Cairns, Palm Cove and Port Douglas; Townsville; Geelong and Ballarat; Greater Western Sydney; Newcastle, Central Coast and Hunter Valley; NSW South Coast; Launceston, and North-West Tasmania.
With an annual subscription of $65, you can save yourself hundreds if not thousands of dollars over the course of a year while enjoying a well-earned treat and helping out those who are less fortunate. If you buy two, the second Entertainment Book can be purchased at a discounted rate.
So with all these great opportunities just out there waiting for you to jump on board, don't despair about not being able to afford a treat or holiday every now and then. Despite now living on a tight budget, Steve and I are still able to experience exciting and unusual opportunities while exploring more of this fascinating country of ours.
And if you have other money-saving hints, please tell us about them in the comments below. After all, who doesn't like a good bargain!
Comments