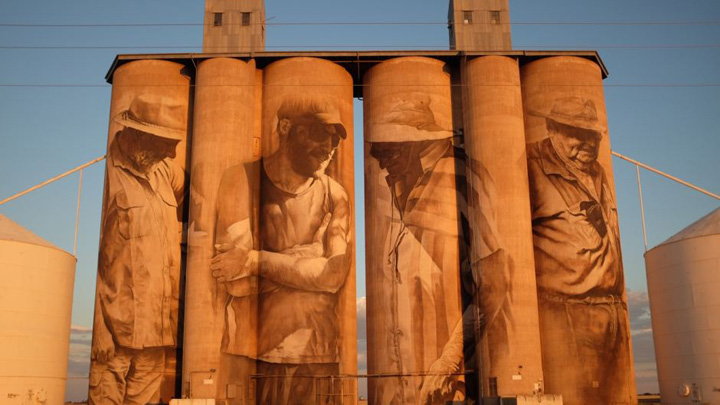 How does a little Wimmera town with the population of 100 people get itself noticed on the national and world stage?
Easy: do something amazing!
Tourists and art lovers are flocking to the small farming town of Brim, 70 km north of Warracknabeal, to witness something quite awe-inspiring and, in doing so, are breathing life into this little hamlet.
Four giant grain silos stand in the centre of Brim Township. They were built in the 1930s, later decommissioned and have stood idle for many years.
Not any more – they have now become sentinels to the testament of the struggle, courage, determination and optimism of the typical Aussie farmer.
Internationally renowned Brisbane-based artist Guido van Helten has completed an amazing representation of 'people from the bush' with his 30m x 30m painting of four figures – three men and a woman, who have grown up on the land.
Guido has painted images on buildings all around the world and now his work on the silos puts Brim proudly on the world stage.
The project is an initiative of the Brim Active Community Group (and active they are), with additional funding from Regional Arts Victoria, Yarriambaick Shire Council and a paint sponsorship.
Using Victoria's largest cherry picker, Guido, completed the project in less than three weeks.
The paintings are of Brim locals Peter and Sam Martin, uncle and nephew and Mrs Win Appledore and her nephew, Alan Quick. The work documents life in the Wimmera region and reflects in a broader context issues faced from life in regional small towns in Australia.
Brim Active Community Group president Shane Wardle said the artwork was already making a difference to the local community.
"In a drought-type situation it's boosted everyone's spirits," Mr Wardle said. "Tourism has grown and people are stopping off to view the paintings but they also spend money which is so good for the area."
Small communities can achieve amazing results by pulling together and being pro-active. Congratulations to Brim on a wonderful project.
Tell us, do you have a great community project like this where you live? We'd love to see it!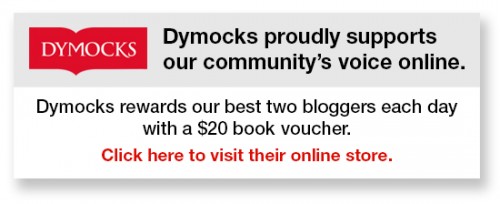 To write for Starts at 60 and potentially win a $20 voucher, send your articles to our Community Editor here.
Comments