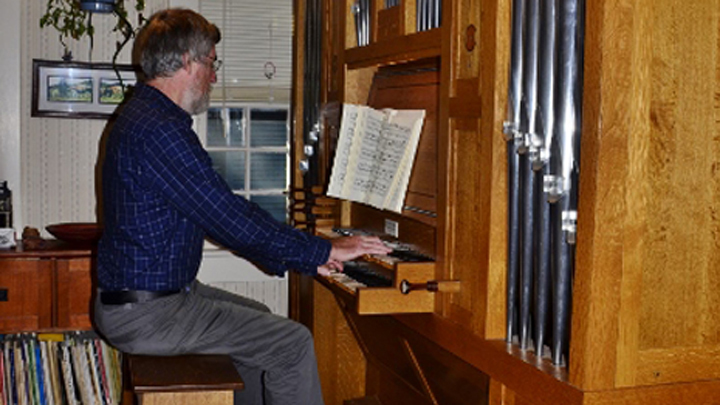 My mind filled with animals I'd breakfasted with; to be sure I'd had kangaroos and wombats wandering outside the window, dogs beside me during a repast or two, brushed skinks aside and moved quickly away from an approaching goanna of considerable size; but as the exotic species of tortoise, propelled unwittingly by Lorraine's foot, went skating a metre across the wooden floor I was gazing at the two felines just outside the back door ensconced in their canvas and gauze carry bags.
One was an 18lb Norwegian forest cross that normally lives with and moves about as much as the tortoise (when it's not being kicked) and the other a mere 8lb Ocecat, yet another weird crossbreed.  Of course, they had company; there were three other neighbourhood cats wandering free around them, two with their gaze transfixed on the brace of attractive foxtail squirrels that were scuttling about collecting their winter rations.
Oregon is a university town and students come and go; unfortunately, some leave their cats behind, hence the excess of four legged animals and, I suspect, lack of birds, in the neighbourhood.
Bill was about to play his organ, the one he'd had inbuilt into his house (as you do). I still shake my head just thinking about it. Here is this guy who, along with his wife, had sired an astro-physicist and an English lecturer, the latter daughter now working at University of Queensland. He's written 18 books, has a solid log cabin on the Oregon coast, over two kilometres from any road, which they both built by hand. It has no electricity, only two solar panels for light, and everything has to be carted by hand up there.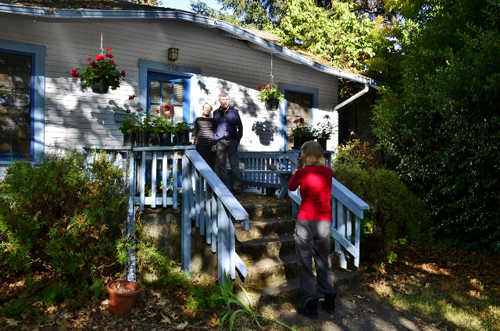 How many books there are piled up in various places around their house are uncountable, but they number in the thousands, a bit like the fairy lights that seem to follow you around the house, drooping like a constant hanging garden. We'd noticed them when we first arrived and Bill was looking for tea bags for a welcoming cuppa. Where they were was a complete mystery to him, I suspect had we been left to find them ourselves we might have had a cuppa somewhat earlier. 
The oddities in the numerous cupboards tell tales of a life spent travelling to many different parts of the earth with Attica amphora, German stein, copper teapot, a postcard from Zufalhutte in the Pyrenees, a Maori sculpture with nacre inlay and Janelle's ancestry – told in the Danish figurines down one side of a cabinet.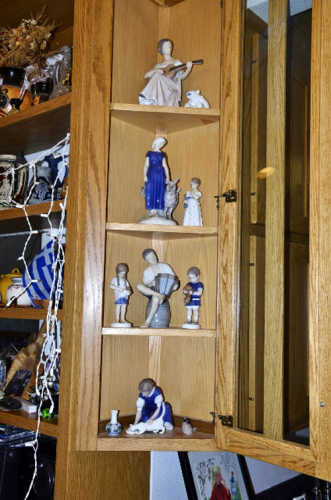 Bill is an affable fellow and if it's anything about Oregon you want to know, you need look no further. He'll gladly tell you that Idaho potatoes are actually grown in Oregon, that his state and Turkey produce all the hazelnuts and, the exact number of breweries in each town.
As for beer pong, well, that's another story. Apparently uni students have this game where they place a glass of beer on each corner of a ping pong table then have to try and bounce a table tennis ball into one of the glasses. Failure to achieve that goal means you have to consume some ale; how this relates to intelligence and studies I was at a loss to realise. I was also later highly amused to see ping pong balls on sale at the local 7-Eleven, testimony to the popularity of the pastime.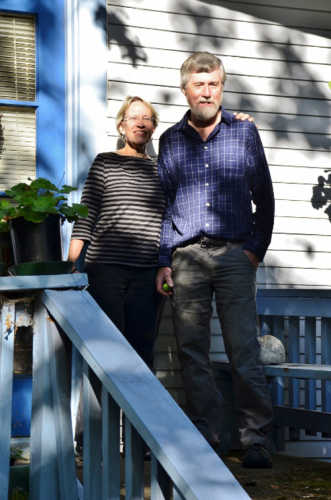 Bill takes us out to dinner at a local hotel, whose claim to fame is that the Grateful Dead used to stop here for an ale or two. It's not overly bright inside but the decor is interesting and we're seated right next to a shuffleboard table, a quite popular pastime in many an American pub.
Lorraine has trouble selecting a beer so the waiter, unasked, brings her three to try. We're initially so impressed but, that lapses somewhat when Lorraine decides she doesn't like any of those placed before her, so Bill skulls the leftovers.
Bill selects one of his favourite platters and I order some fish; whatever Lorraine ordered we've forgotten, it was that sort of dish…..actually, the fish was forgettable also and, had we not shared Bill's platter we'd probably have remained hungry until the next day.  We figured "gourmet" is a word Bill needs to familiarise himself with. I also always say, "Eat at a pub and you get pub food".
On the way home Bill took a route past the local college where the band for the local football team was rehearsing. We were a block away yet the energy was palpable as they worked their intricate marching routine to the sounds of the booming brass instruments that blasted across the town for all to hear.  It was all a bit surreal compared to the suburb of Moonee Beach where a raging surf can occasionally be heard but not much else except traffic.
Bill and Janelle were lovely hosts and we hoped to meet some other locals on the way.
Our next personal encounter came only a couple of days later, with a man who was deeply engrossed in some autumn tones protruding from lava beds. We were sitting on about 100 kph but quickly decided the following; this man is a local; this man has a tripod; this man is taking photographs – could be that we should stop also. So the brakes were applied and that was how we came to meet John Neipp.
To describe John as a character might be understating it a little, but we didn't really find that out until he came around one night after we had tried to liaise a couple of times earlier. 
Lorraine has a need to get to bed early and suggested that it would be good if he could arrive at around 7.15 p.m.  That didn't stop John turning up around 7.40 but his smile and charm soon had the atmosphere on high in the room.
Being a woman, Lorraine was interested in the personal side of things, in particular was keen to know if any women were involved in his life.  Turns out there were, after careful and constant probing from Lorraine.  He calls them the Bend stalkers, aka the hussy patrol, there are four at Bend and another two in Klamath Falls but John says, in an effort to avoid permanency of any relationship, he's learned to keep his penis in the fridge.  After Lorraine picks herself up off the floor from the ensuing bout of laughter we learn more.
He proffered that a woman once told him that any animal that leaves its most important part hanging out must be dumb then relates how only that very day a stunningly attractive woman in very short garment had dropped her keys where he works at an auto dealers.  She bent over to pick them up and Bill immediately told a colleague that on this day indeed, he wished he had left the aforesaid item in the fridge.
He related how, at Bend, some people painted their lawn green to get that cared-for look; though it's more a Californian thing.
His tale of Crater Lake had us bug-eyed.  It's a bit of a mecca for photographers and, in the middle of winter, John had donned snowshoes and trudged nearly 5 kms to the top in order to get the perfect shot.  He was espied by two park rangers however, who bailed him up.
"What are you doing here?" was the query.
"Trying to get a photograph", the immediate reply.
"Well, you'll have to leave, the park is closed"
"I haven't got my shot yet."
"You still have to go."
"Well, it seems like I'm fairly heavy and there are only two of you, so I don't think that's going to happen."
"How long before conditions are right for this photograph?"
"I don't know, I haven't seen them yet."
He ended up staying, revealing how, on a previous excursion there, he'd spent the night in the toilet because they have propane (so plumbing doesn't freeze) and it's always warm.  Only special people do that sort of thing.
Oh, yes, he got the shot; it now, somewhat ironically, hangs in the main visitor centre.
Share your thoughts below.
Comments