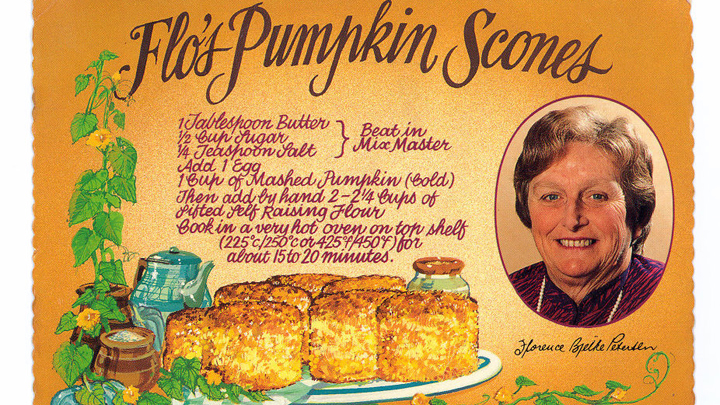 We have all heard of Lady Florence Bjelke-Peterson, who was the wife of our late past Premier of Queensland, and a Senator in her own right in Queensland.  She made the news regularly with her famous recipe for pumpkin scones. I first tasted this recipe back in the 1980s and they were made my my aunt who was from the same era as Lady Flo.
My aunt came from the country in Queensland, and she would always have a lot to say about how wonderful Lady Florence was and would often make the scones for our morning tea visits. Although my aunt would always talk a lot about her scones, I never actually did see the recipe. As I remember, it was back in the late 70s and 80s when Lady Florence became very famous with her pumpkin scones and everybody seemed to be raving about them.
I was going through the books in a Lifeline Shop last week and I came across a recipe book with a picture of Lady Flo on the front and the famous pumpkin scone recipe inside. I was absolutely delighted with my find and what memories flashed back. Published in 1992, this book is covered on the outside with a picture of these traditional scones with a picture of Lady Flo Bjelke-Peterson in the middle of the cover.  
In the book Lady Flo states that she used the scones for raising money for charities and actually auctioned her recipe for $1000 Spinacare in Sydney years ago.
In another interview with Robin Hughes Recorded in 1994, Lady Florence Bjelke-Peterson said she originally used to pumpkin scones to help her to relate to women and men and they were the people that voted for her, as they would all eat scones. She admitted she would often offer guests scones when they visited, and had received some very good publicity for her scones, and even the Queen had told Prince Charles about them before he visited Queensland back in the 1980s.  
These days everything you need to know is Google, even the old pumpkin scone recipe, and you can also find some of the recipe books.  I have however included the recipe so you can all give it a go.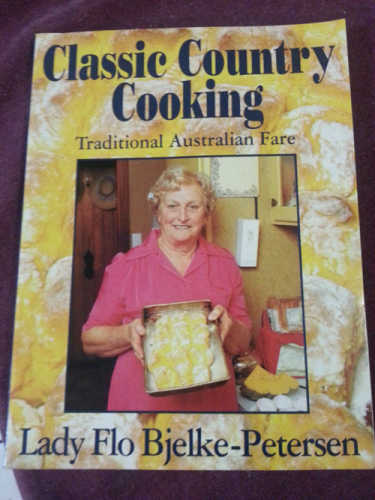 Ingredients
Makes 15 scones
1 tablespoon 

butter

1Ž2 cup 

sugar

1Ž4 teaspoon 

salt

1 

egg

1 cup mashed 

pumpkin 

(cold)
2 cups 

self-raising flour
Method
Beat together butter, sugar and salt with electric mixer.

Add egg, then pumpkin and stir in the flour until just combined.

Turn on to floured board and cut into squares.

Place in tray on top shelf of very oven, 225-250c for 15-20 minutes.
See if you can make and eat a very famous part of Queensland's history and let us know what success you had.
Comments