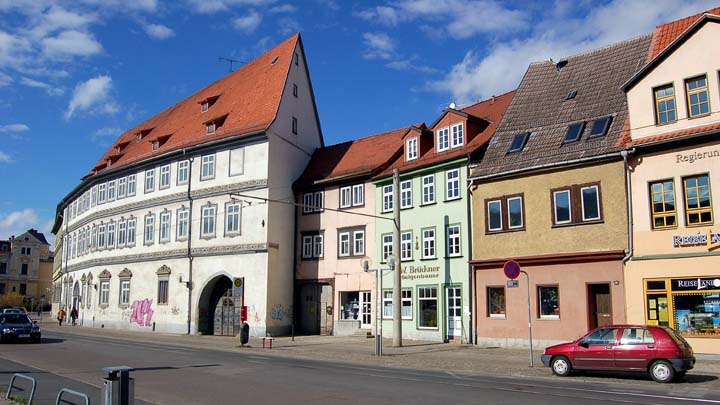 The train rolled in to Erfurt. "God, this is it?" I thought. It was so abysmally plain. Should I just keep going and ignore the place? Then again, I had booked accommodation and you never know what might be around the corner. Never has that phrase been more aptly applied.
I had just sat down on the tram when we rounded the first bend. I had chosen this town because, well, it was halfway to where I wanted to really go – Brugge – and I thought I may as well break the trip in two. That, and the fact that one of my friends on virtualtourist had rated it.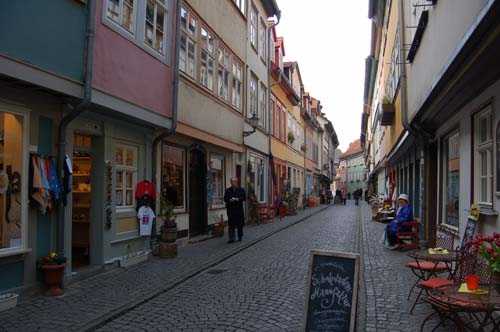 So I shouldn't have been surprised during the next most wonderful few kilometres I've ever had in a tram. I suspect my lower jaw was rarely off my chest and my eyes continually agog. My most immediate thought was that I must be on an historical Disneyland ride. Every 100 or so metres the tram jagged around another corner to reveal treasure upon treasure. So many of the buildings were Tudor style also, something I had never come across before in Germany except for the odd one in Bamberg.
Of course, here and there the usual church steeple flashed by down one of the side streets until we reached the Domplatz. Then there was a monster cathedral with another one right beside it perched on a hill overlooking the square. Wow.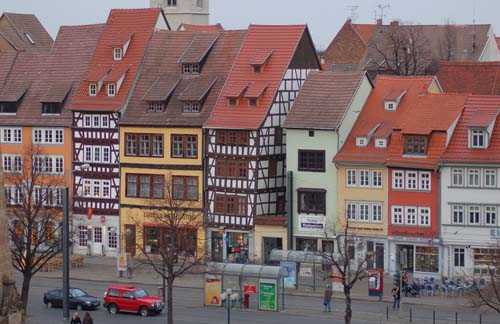 Some of the buildings were at such dramatic angles that I gave them a wide berth just in case. I hadn't seen anything so warped since I'd been at the Shambles in York. Much as I love the hilltop towns in Italy, places like Prague, Dresden and Bamberg, I haven't been as historically impressed with such immediacy since I visited Rhodes. All this and there's even a cute little river bisecting the town.
At one place there's what was obviously once a low level stone bridge and now it's jammed with about 8 three storey Tudor buildings.  It all looks like it's straight off a postcard.  I took 4 shots side by side to try and make a panorama of it when I get home.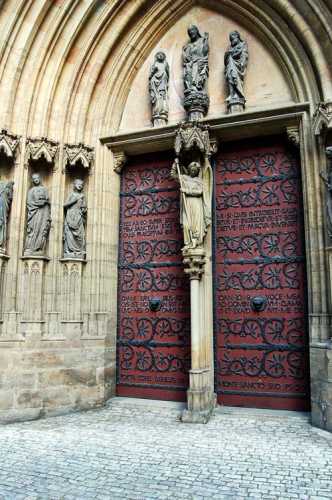 Erfurt's early fortune had a lot to do with the woad plant (produces a blue dye) and thus traders had to pass through the town and over this little bridge, which is the reason for all the shops that still trade today. This is one of the joys I guess of not being on the buses or the package tours. Places like Erfurt and Goerlitz are a little off the beaten track so it's mainly Germans who visit here and I haven't heard a Yank accent since I left Dresden and there's not a Japanese in sight at either place.
In less than three hours I racked off over 100 shots. This is not so much a reflection on my keenness (thought some may well differ) but on just how cute the place is.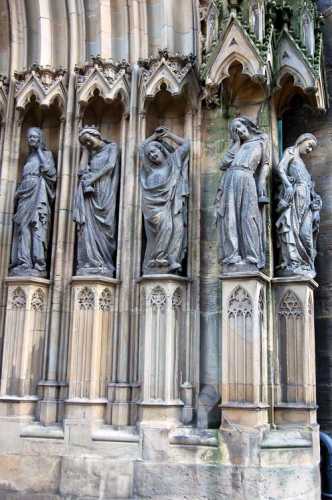 It's late but there's one last thing I have to do in Erfurt; climb to the Petersberg Citadel, an old fort complex. It's not a very high but, after another full day afoot, I don't need an ascent but do it anyway. Of course, it also allows me to flaunt the two new words I've learnt this trip. An embrasure is one of those little slits in the fortifications with down sloping stone work to enable weapons firing, while a fleche (from the French) is an arrowhead shaped exterior fortification. Naturally enough, should one be unfortunate enough to be hit with a missile fired from here, it would thus be considered a fleche would. (Sorry, couldn't help myself there).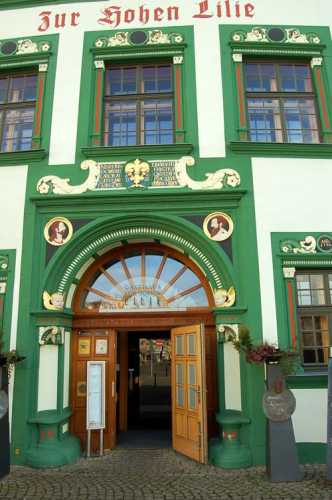 The buildings on top are generally large and none more so than the former monastery Church of St. Peter. Its internal splendour long gone after the Napoleonic Wars, in 1820 it was adapted as a military store. Imagine massive wooden beams linked with undressed stonework and you've pretty much got the idea. What to do with such an edifice?  Enter Professor Jurgen Blum-Kwiatkowski.
Now, I don't know about you, but I figure with a name like that the guy has started out in life already pretty mixed up. Thus the following should come as no surprise. What could such a man do with a place like this? Well, get in touch with a lot of artists (I use the term in its broadest sense) and let them exhibit in this very building.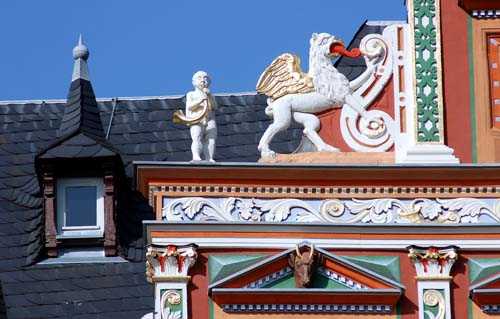 I entered the building, having no idea such and exhibition was inside but ushered in enthusiastically by the ever keen ladies at the door. There was no charge which, I reflected later, should be the price for many of the works on show.
So I rolled on in, anticipating something of an old church and finding; let me share with you what I later wrote down; 2 yellow squares, 1 red circle, coloured diamond shapes, 1 blue rectangle, 1 white and black staircase, 1 yellow triangle, 2 red right angles, a ball of twine going in all directions and other assorted geometrical shapes.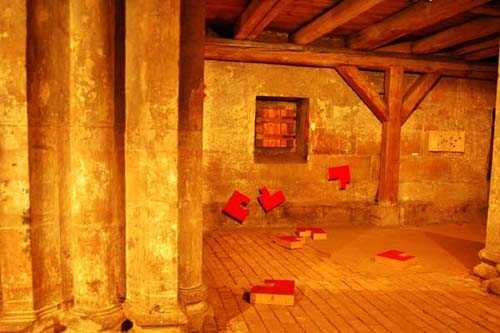 Now, since I recall failing geometry (may Pythagoras forgive me) perhaps I should refrain from comment, but I felt these works could well advance the case against drug abuse because, I don't know what the artists were on when they thought these were worthy works, but it should be banned.
It also helped me understand why euthanasia is legal in most European countries, they obviously hope more of these artists might avail themselves of the opportunities thus afforded and put us all out of our misery.
I'd already snapped a couple of pics when the echoing footsteps of an agitated matron type came even closer. In her clearest German she was trying to convey to me – "No pictures, they are private, someone might put them on the internet and steal these original ideas".
Well, she got three quarters of that right. I think she may have totally misunderstood my barely suppressed laughter however as I tarried briefly before leaving. I thought, "If only my geometry teacher had taken out patents, half this exhibition of 120 artists (so called, remember), could be sued".
It made for an enlightening finale for my visit to Erfurt in more ways than one.
Comments