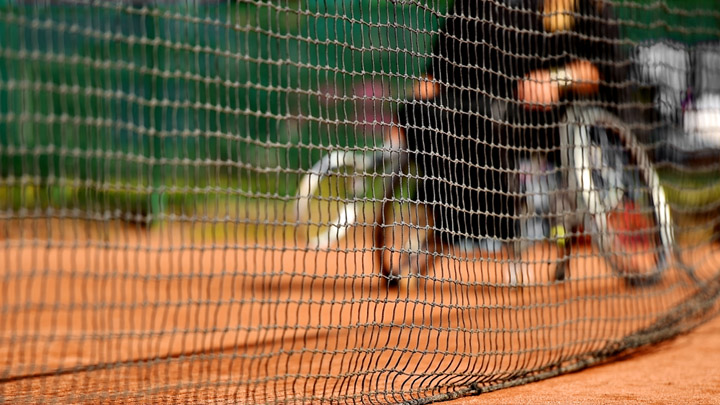 Did you know that there was a wheelchair tennis competition running at the same time and at the same place as the Apia International Tennis competition in Sydney? Did you know that some of the world's top wheelchair tennis players were competing? You can be forgiven if you didn't know. The media attention was minimal if any at all. I found out because my granddaughter was a ball person at the tennis.
Wheelchair tennis is dynamic and exciting, demanding skills that are quite unbelievable. To manoeuvre a wheel chair in a purpose built wheelchair at a fast speed, get the exact timing on the hitting the tennis ball and place the ball in a tactical placement takes some doing. I was in awe at the ability of these top class players to get to balls that seemingly were out of reach. The only difference in the rules is that the ball can be allowed to bounce twice off the court surface.
Did you know that there is a major wheelchair athletic event in Canberra on the 20th and 21st January? You can be forgiven if you didn't know. The media attention will be minimal if any at all. The GIO Summer Down Under Wheelchair Track and Road Racing Series will see over 60 wheelchair athletes from across the globe compete to qualify for the Rio 2016 Paralympic Games at the Australian Institute of Sport (AIS). This will be just as exciting and as competitive as the Paralympic Games.
Did you know that early in 2015 The Pararoos (soccer team) had their $175,000 annual funding cut by the Australian Sports Commission as they were not considered a Paralympic medal chance? Fortunately, the Football Federation Australia and the Australian Sports Foundation were able to come up with a scheme that included tax deductible contributions to at least enable preparation for the Paralympic games.
No doubt there are other sports both able-bodied and sports with people with a disability participating that have funding problems and do not receive recognition. However, it is certain, that in this sport loving nation, our elite world class athletes with a disability are not being given the recognition by the media they deserve. It should not be only at the Paralympic Games that are televised, but across the board of competitions so that we know who these athletes are and who are the up and coming stars.
The obvious issue is: is the media discriminating against these athletes by omission?
Comments