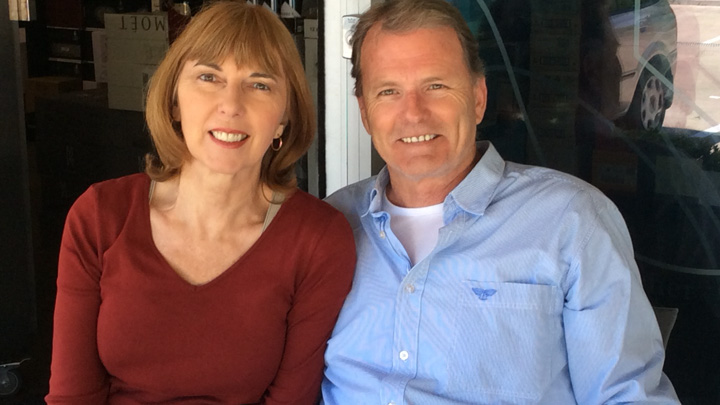 Would you like to be able to travel the world without the cost of hotels?
When you travel, do you have a statute of limitations on restaurant meals and after a while you just want an egg on toast?
How about having a washing machine in the next room?
It started after a discussion about what would be the most fabulous thing for us to do right now.
We'd come together as a couple only a year before (although we'd known each other for 30 years!) Neither of us had full time jobs, having been brave enough to step away from the disincentives of our chosen industry. We were freer than we'd ever been.
The answer was easy. TRAVEL!
We'd both travelled for our jobs and as tourists. This time we wanted something different. But not a cruise. We weren't up for backpacking and we didn't need adventure. What we did need was an alternative, authentic travel experience.
For years I'd dreamed about living in France. So I wanted to know first-hand, what it's like to LIVE in France. Then it became France or the UK. Then France, the UK and maybe Italy, or Switzerland. What about The Netherlands?
The solution was house sitting!
We began looking for a way to earn along the journey, which would enable us to spend a full year travelling. We circled various options, but came back to our area of expertise – making a television series!
We had no budget and no broadcaster, but we made a start, knowing that if we just took the first steps, the rest would be revealed to us. With help, we began manifesting our dream lifestyle. Stuff started to happen because we started moving forward, not waiting around for "the right time". The right time is now!
So we went ahead and started shooting!
We found 3 fabulous house sits in Australia and have just returned from a 5 week stay in the stunning Adelaide Hills. We drove, with a few stops along the way 2,200 km to get there. That's the same as driving from Paris to Prague and back again.
Most of the time, people need house sitters because they have pets that need to be cared for while they're away. That's a joy for us because we love animals.
Normally you have the entire house to enjoy, you get the passwords for the WiFi and Netflix then settle in like it's home! You'll shop for your own food, you'll meet locals who can tell you about the places that are not on the tourist brochures and you'll find a favourite café.
The Adelaide Hills gave us our first real taste of living like locals. Taking care of an old dog, a sheep and 5 egg laying hens, was far from a chore, it enriched our enjoyment of living a village lifestyle. And for most, that's about as much as you need to do.
But we'd chosen to make this a working travel adventure!
We were busy. VERY busy. Plus we're breaking new ground with our shooting style so we were learning along the way.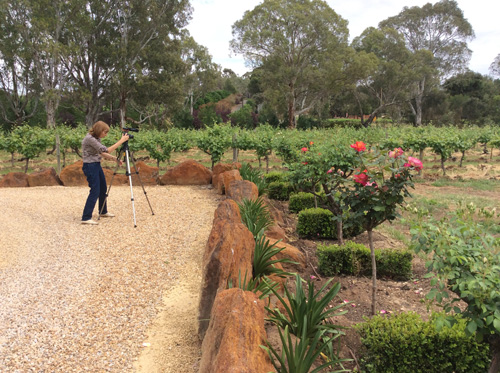 We have no crew! It's just the two of us.
The entire series is being shot on a Nikon DSLR, 2 mobile phones, a mini iPad and a Sony Action Cam. This enables us to be spontaneous, fast and real! We shot 20 items for 2 episodes – all with complete creative freedom! Luxury.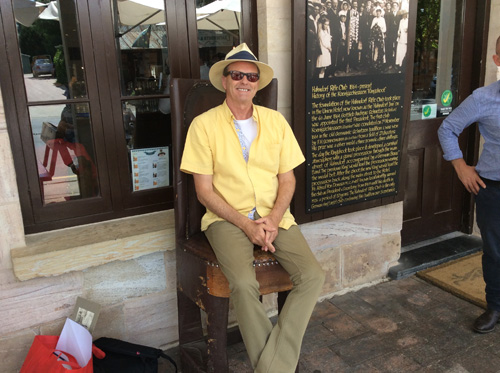 At Hahndorf Hill Winery, we tried the next big thing in white wine called Gruner Veltlina. We visited several wineries in the Barossa (hey we were SO close it would have been impolite to ignore them) including the Centenary Cellar of 100 year old tawny at Seppeltsfield. At Langmeil we recorded the story of how they saved 150 year old vines from destruction. This was not another wine story, this was history! When the Classic Adelaide Rally stopped for lunch in Stirling, we enjoyed seeing a collection of incredibly expensive luxury or classic cars and met their drivers. To keep it balanced we visited the local primary school of just 60 students and investigated the spectacular food from the region.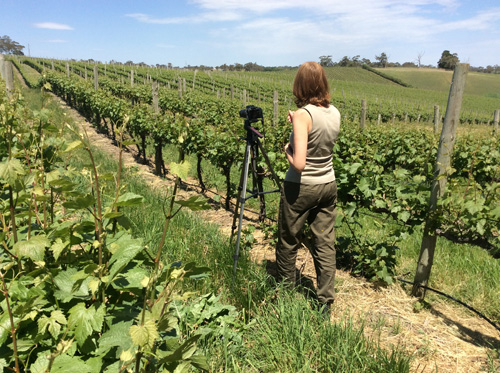 In early March we head to France for 3 months despite the recent drama.
Then we'll spend serious time in the UK and Italy. The idea of a Northern Hemisphere Christmas for 2016 is growing stronger and we may hang around once we finish shooting in November.
We're primarily doing the Village to Villa year long trip because we know it's going to be awesomely amazing. There will be many rewards for us.
But we're both experienced story tellers and we have the ability to share this with you! It's important for us to inspire and encourage others to follow their travel dreams.
While you're contemplating your own house sitting adventure, you can learn from how ours is unfolding by tracking us on www.villagetovilla.com
We're also on Facebook, Instagram and I'm sure there will be more as we learn how to master the dark art of Social Media! One of our goals is to gather 1 million followers by the end of the shoot.
Follow our progress (and the odd misadventure!) by leaving us your details on the website. Just below the photo of "Gai and Neil at their favourite café in Stirling", there's a spot to leave your email address – then you'll be part of Village to Villa.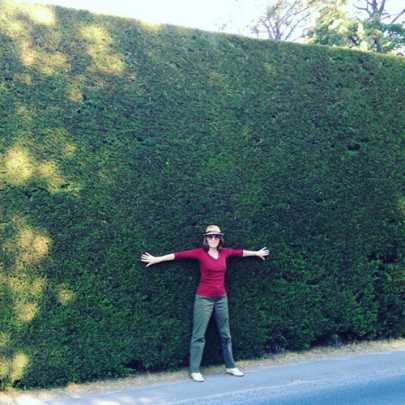 Comments