I've worked for more than 20 years in the education sector, including teaching at a school for children with disabilities and working as an advisory teacher for physical impairments. Who would have thought when I started my teaching career that this long path would take me to Cambodia to volunteer as a Special Needs Educator with an organisation called Epic Arts?
I was on the verge of retirement when I saw the advertised volunteer assignment with the Australian Volunteers for International Development (AVID) program. I had volunteered in Cambodia previously on several occasions and had experienced the rawness of this country. The job sang to me – a new lease on life!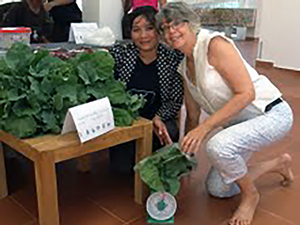 I was based in Kampot, rural Cambodia. My introduction to Kampot: A two-and-a-half hour taxi journey from Phnom Penh with seven passengers, four in the back, two hugging each other in the drivers' seat and me in the front passenger's seat with my eyes closed the whole way. We were driving on the wrong side of the road, the horn honking, dodging tuk tuks, cattle, dogs, bikes and trucks.
Epic Arts is a non-government organisation (NGO) which provides life skills programs for students with disabilities. The aim of my assignment was to help the Special Education Project team leader to develop programs and skills and create awareness of disabilities in the community.
When I first arrived, I encountered some difficulties in communicating to staff due to the language barrier. However my team were learning English, and I quickly started daily Khmer lessons. Over a period of time we managed quite well with the help of an interpreter. Khmer language doesn't cover many terms relating to disability so images were necessary to help with explanations. An iPad became a valuable teaching tool, making training more visual, immediate and motivating. Within a short time staff were using their English to practice gathering data and footage, and to link with other NGOs and professional practices for clarification and appointments.
Another challenge was teaching staff to screen children for the correct disability so that they were managed in the right environment. There were several children in the special needs classes who needed to be assessed. So with the aid of iPads, staff used skills in observation, communication, data collection and recording. Those children with physical impairment in our classes didn't have intellectual impairment so we needed to look for other education options.
I had the pleasure of teaching many special students at Epic Arts. I met Sok the first day I arrived. He had cerebral palsy, a big smile and gave me a lot of cheek. He could also speak some English and originally learned the language from lying on a rice mat listening to the radio while his mother worked as a cleaner at our centre. With the assistance of The Cambodian Trust, we reviewed his physical needs, equipment was made and a plan was put in place so he could attend formal schooling. It was a sad time for us, but we knew that attending school is what Sok wanted.
Pheatra, a second student with cerebral palsy is now in an inclusive setting in a local public school supported by Epic Arts staff. Pheatra is hemiplegic, meaning he has paralysis of his arm, leg and trunk on one side of his body. After being fitted with ankle and foot orthotics, a walker and a wheelchair, his parents registered him at the school closest to his home. It was rewarding to help staff assist Pheatra each month, meeting with the director and teacher to check attendance, academic progress and physical needs and adjustments.
It was a privilege to work with the staff and children at Epic Arts to share their lives, celebrations and challenges. The AVID program is one that shows how building capacity and sustainability can transform the lives of people in rural Cambodia.
Is this an adventure you'd like to try? Click here to learn more…
This post is sponsored by Australian Volunteers for International Development program, an Australian Government initiative. For more information, please visit www.startyournextadventure.com.au, or www.dfat.gov.au/australianvolunteers.
Comments