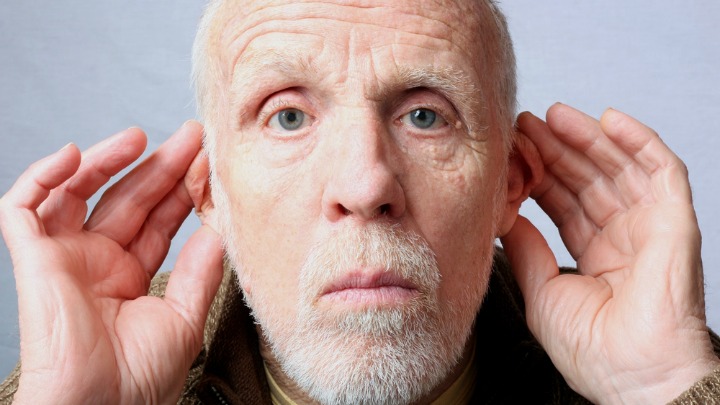 Working with turbine engines doesn't bode well with the retention of good hearing, particularly when the 'approved' hearing protection provided by the employer is found to be inadequate. The two main areas of damage are hearing loss and tinnitus (whistling or ringing in the ears).
For most of my working career I've been involved with military aircraft. Piston engined types included Bell Sioux helicopters and Cessna fixed wing aircraft. The turbine engined types included Pilatus Porter, GAF Nomad, Bell Iroquois, Sikorsky Blackhawk and to a lesser extent, Boeing Chinook.
Fortunately, the Australian government accepted liability for hearing damage and claims are processed by the Department of Veterans Affairs (Vets Affairs) – as long as you go through the hoops in an 'approved' manner and don't make the slightest of errors as it could be detrimental to your claim. You see Vets Affairs is not primarily there to help the serviceman, its main job is to reduce the cost to government… but I digress.
After a couple of years applying, Vets Affairs accepted my claim and I was provided with hearing aids. They weren't top of the line, but they were adequate. Some of them incorporate a feature to cancel the tinnitus but mine is too severe. The unfortunate part of hearing impairment is that it never gets better, only worse.
At a routine appointment with my hearing services company, Neurosensory, they suggested I enquire about a cochlear implant as word recognition in my left ear had dropped to around 40% with the hearing aid in.
Several months went by with more interviews and testing and the operation date was set, postponed due to a tragedy in the surgeon's family, then rearranged.
The surgeon explained that he had so far managed to retain the residual hearing for his patients and in nearly all cases, tinnitus had disappeared. I was very enthusiastic at this stage. Getting rid of tinnitus alone would be a blessing in itself.
On the 11th of July I presented myself to St Andrews Hospital in Toowoomba and was duly processed. The hospital staff were outstanding although one area that I was quizzical about was the lunch and dinner orders. Having been under a general anaesthetic before, I knew that food was one of the last things on my mind after regaining consciousness. Never mind.
On waking, I remember feeling bloody awful. Usually at this stage I'd be gasping for a cup of coffee but not this time. Water it was. No lunch, no dinner, just water.
The surgeon came to see me next day. He explained that he had a particularly hard time with the implant and that my residual hearing was lost forever. I replied saying that I accepted the risk and was under no misapprehensions. He was a bit more disappointed when I told him the tinnitus was still there, although 'reduced' in volume somewhat. He knew about my physical condition and we decided to delay activating the implant until the following day.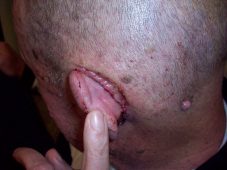 I got up and, with assistance, had a shower. I wasn't really prepared for the temporary damage to my balance. I found it okay to stand or even walk in a straight line, but every time I turned my head I felt as if I would fall over.
I managed to eat some soup that evening.
Next morning I managed a bowl of muesli and a cup of tea.
Following normal routine I shaved, showered and dressed and went down the corridor to the Neurosensory unit. I was looking forward to the activation of the implant but was amazed at the size of the bag it came in. It's huge!
The magnet and 'hearing aid' are only a small part of the kit, which also includes a remote control device, spare batteries, a dryer, spare ear hooks and other odds and ends. Very impressive.
The exciting part was turning it on. I'd read about it so I was prepared for the electronic signals that made everybody sound like a Dalek (not quite, but it's an easy way to explain it).
Testing went smoothly. The staff were very pleased with my progress and encouraged me to wear the device for a couple of hours each day to get used to it. I then left the hospital and my wife and I visited a local shopping centre in search of a walking stick to assist with balance.
As per recommendations, I wore the kit for several hours each day but was finding that it seemed to be getting worse.
At my next appointment, the Neurosensory staff explained that two factors probably influenced the operation, one being the swelling around the implanted magnet had reduced and that I was probably now getting used to it. The consultant then went on to explain that my results on day one had been exceptional and that I should become comfortable with the kit in a reasonably short period. She then went on with more testing, tuning and setting up the remote control unit. She added one of the features available, explaining that she was only doing this because of my advanced progress. They usually wait several weeks before adding additional capabilities but I'd done well. Obviously, I was pleased.
The big test was on 20th July, when my wife and I went to the local Repertory Theatre to watch 'Here on the Flight Line'. Although I missed several words, I can only describe the occasion as a huge success.
I'm returning to work on Monday, these days it entails sitting behind a computer all day rather than climbing all over helicopters, and I'm looking forward to improved interaction with colleagues.
My main disappointment now is that I'm impatient to recover all my balance functions so I can get rid of the bloody walking stick and get back on my motorbike. My other 'disappointment' is I no longer enjoy coffee in the quantities I used to. Probably not a bad thing as five or six coffees a day is a bit too much, so they say.
Share your thoughts below.

To write for Starts at 60 and potentially win a $20 voucher, send your articles to our Community Editor here.
Comments