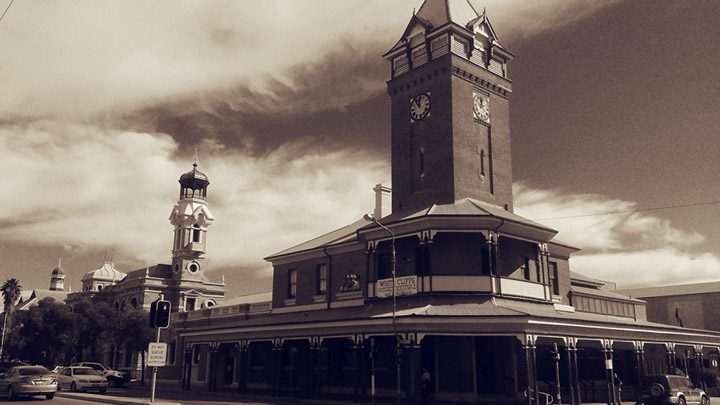 If you arrive in a city and ask someone for directions and they tell you to proceed along Crystal St, turn left at Oxide St, then right at Cobalt St, right again at Iodine St, left at Mercury then proceed to Wolfram it's because you have just arrived in Broken Hill, New South wales, home of the world's largest mining company, BHP-Billiton. I arrived via the Silver City Highway from the south.
Broken Hill city is built centring the huge silver mine and its tailings or slag heaps even cast shadows over parts of the city in the very early mornings, particularly near Slag St. The mine is everything here and has been since 1883 when the boundary rider, Charles Rasp, found what he thought was tin, but turned out to be one of the world's largest silver deposits. In 1888 the ragtag, boom and bust community was proclaimed the Municipality of Broken Hill, and by 1907 had a population of 30,000 and was the second largest settlement in NSW.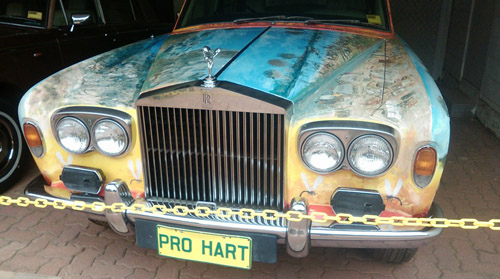 It's had a colourful past and a few points of interest I discovered are: the huge munitions factory that supplied much of our WW II's ammunition: from 1942 the local Jail (okay-Goal) housed our nation's gold reserves in a specially constructed steel-lined vault – it's still there, and the locals will never let anyone forget Australia's only enemy attack on home soil during WW I in 1915 when a local train was attacked by two men firing from an ice cream cart flying the Turkish flag. This was four months before the ANZAC landing of Gallipoli, Turkey.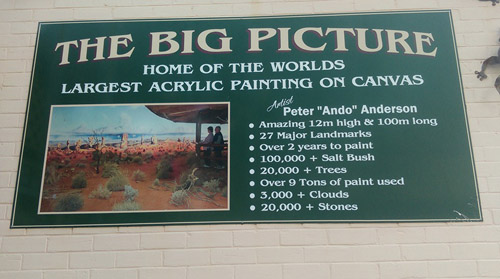 Now you might be thinking underground mines, slag heaps, desert, dust, isolation and playing two-up at the Palace hotel is sounding a bit blokey, but there is another side to the Hill – and that's its artistic or creative side. Here, you will discover that stereotypes don't always fit the mould as it's the home of a wonderful over-abundance of extraordinary artists and galleries. Starting with the Broken Hill Regional Art gallery on Argent St, then there's Pro Hart's gallery, Howard Stern's and Jack Absolam's and more. Pro Hart, once an underground minor, could be seen riding the streets on his Harley one day and next day in one of his four psychedelically-painted Rolls Royces – no stereo types here. There are even galleries in some suburban streets and I get the impression there are more artists and galleries here per population than anywhere else in Australia. It's even home to the world's longest acrylic painting, "The Big Picture" which is 100 meters long and required over 9 tonnes of paint to complete. It's on Chloride St.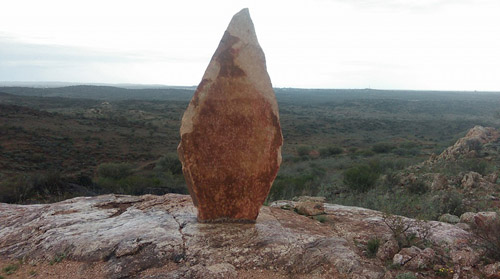 But what grabbed my attention most of all was the Broken Hill Living Desert Reserve located 6 kilometres out of town and home of the Desert Sculptures.  These sculptures, hewn from large pieces of sandstone were sculptured by 12 artists from 5 different countries and harmonise so perfectly with the surrounding and endless desert scape, yet at the same time the imprints left by their ethnically diverse makers strikes at the very core of what it means to be part of the family of man.
I took dozens of photos to remind me of this special place. The sculptures are located atop a hill with commanding views of outback Australia. As I sat there within the great and vast solitude alone with only the sculptures for company I couldn't help but sense a great power of creativity, greater than the sum of all the efforts of all those involved with their creation. The power of art and what a wonderful world it could be if only we focussed on the positive and creativeness  as opposed to the negativity and destruction which seems to be overwhelming our world today.
Long live the artists of Broken Hill!
Have you ever been to Broken Hill?
Comments