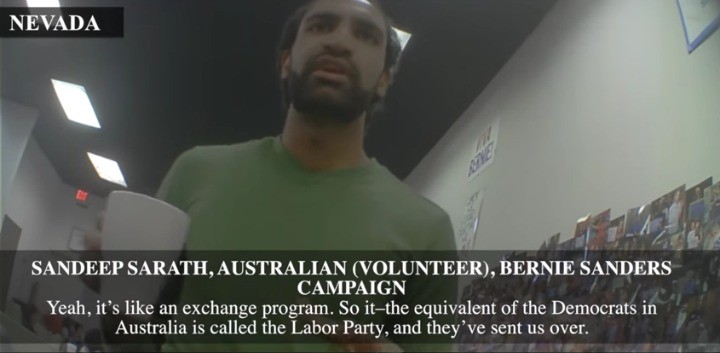 Opposition leader Bill Shorten is reportedly outraged after Labor volunteers were caught deliberately partaking in illegal activities while on a taxpayer-funded trip in America.
A video posted online has revealed Australian National University Labor Club president and student union board member Ben Kremer sneaking around American suburban homes in the dark and stealing political campaign signs from people's front yards.
Mr Kremer, who is in America to help promote Democratic candidate Bernie Sanders, is heard in the video saying he steals signs and posters supporting Donald Trump and replaces them with documents and flyers about Bernie Sanders instead, reports SMH.
Removing political material from private property is a crime in America – something Mr Kremer is well aware of.
Other Australians, including Western Australia Young Labor president Rebecca Doyle, can be heard in the video bragging about receiving taxpayer money to fund her trip to America and cover her flight, accommodation and daily expenses.
Mr Kremer and Ms Doyle are both in America has part of an Australian program called the Australian Political Parties for Democracy. The program is funded by the federal government and taxpayers, with the sole aim of "strengthening democracy internationally" – a cause which has baffled many people.
The video, posted online by Project Veritas Action, also shows Mr Kremer talking about how volunteers are not allowed to post anything about their trip on social media as it could prompt the Coalition government to cancel the program.
Mr Shorten said the behaviour is "unacceptable" and proof that it is essentially a waste of taxpayer money.
"The behaviour which has been reported is completely unacceptable," he said.
"Stupidity never paints anyone in a good light.
"I'm not convinced of the value of this program of sending people overseas, full stop."
In light of these revelations, many people are questioning why such a program exists, pointing out that democracy is alive and well in America and hardly needs young Australians to travel there to promote it.
Other volunteers in the program have been sent to the UK, Europe and New Zealand for the same cause. Volunteers are only required to spend half of their funding money on their work while they are overseas, while the other half can be spent on whatever they want.
As it stands, the program has cost taxpayers $3 million for Liberal and Labor volunteers and $600,000 for Greens volunteers over the past three years.
With the federal budget just around the corner and many people looking to face financial setbacks due to funding cuts, there are some who are questioning why they are having to pay for the program and the entertainment activities of these volunteers while they are oversees.
Take a look at the video below and tell us your thoughts.
Do you think the Australian Political Parties for Democracy program should be cancelled? Or, are people overreacting?
Comments