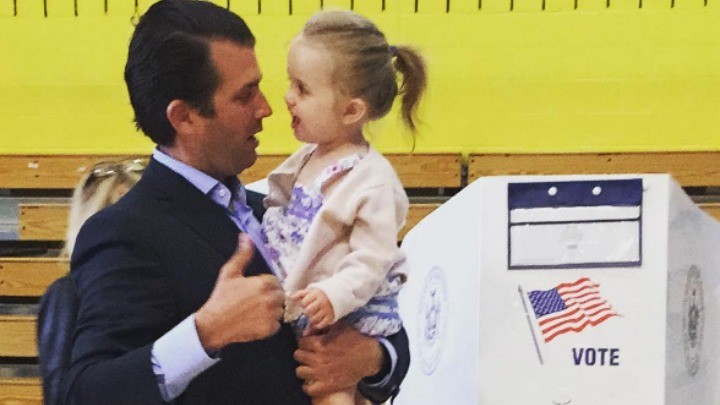 Sorry grandpa Donald! When Donald Trump Jr's daughter Chloe Sophia told him who she would vote for, he was in for a shock. "Whaaaaaat?!" he exclaimed.
According to Chloe, the person who will have her vote is – get ready for it – Elmo.
Caught on camera, her dad asked her, "What about grandpa?". There was an awkward silence from the toddler until Trump Jr made a good save by saying Elmo's name again. Here's the video posted by Trump Jr on his Instagram…
Although Chloe was pretty determined to see her beloved Sesame Street character as president, she eventually settled on grandpa Trump after some persuading from dad. Donald Trump Jr. took his daughter to the voting polls during New York's primary as he cast his ballot just a few blocks away from Trump Tower.
Melania Trump was seen casting her vote on Tuesday, wearing a First Lady-inspired suit with sunglasses inside. Donald's ex-wife, Ivana, was seen walking in the city as voting got under way.
How cute was Chloe in the video? Who do you prefer, Elmo or Trump?
Comments