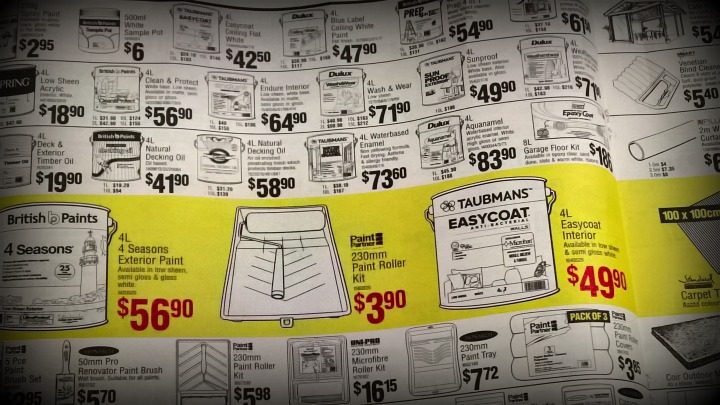 It's claim is 'lowest prices are just the beginning', but hardware chain Bunnings is hitting home renovators and builders in the hip pocket, inflating the price of common building products and materials.
According to The New Daily, the claims by Bunnings that it has the lowest prices are "rubbish".
#Bunnings 'lowest prices' marketing slogan proven to be rubbish: https://t.co/vjWbVHUSpD pic.twitter.com/1MDGMTNtbW

— The New Daily (@TheNewDailyAu) May 11, 2016
If you're considering doing a renovation or even just some maintenance around the home, you might want to shop around for things like concrete, paving sealers, plaster board, paints, doors, nails, screws, brushes, sinks and lighting to make sure you're getting the best price.
A comparison of prices in a Bunnings catalogue from January 2015 with that of January 2016 shows up to 54 per cent mark-up on these items.
If you have a green thumb there is some good news out of all this. The most aggressive mark-up seems to have been on a wheelbarrow (up 20 per cent on its 2015 price), but things like potting mix and popular plants remain unchanged in price over the 12-month period.
It's likely such price hikes have made a hefty contribution to the overall profits of parent company Wesfarmers, which also owns Coles, K-Mart, Target and Officeworks. The group announced an operating profit of $2.1 billion for the first half of the financial year (to December 2015), said to be an increase of around 1.6 per cent. Of that, Bunnings had a profit of $701 million.
Perhaps most concerning is that Australia's biggest hardware chain was earlier this year set to become the country's only hardware chain and with such a monopoly consumers could well be taken advantage of.
Have you undertaken any renovation or maintenance work around your home? Do you like or loathe Bunnings?
Comments