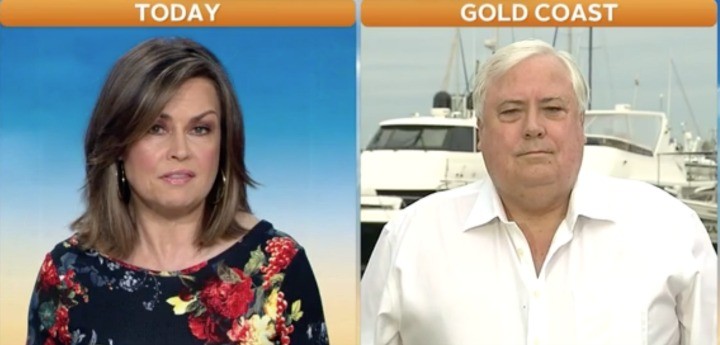 Bizarre politician Clive Palmer and Today Show host Lisa Wilkinson have clashed heads, in a fiery television interview this morning. Many Australians feel that Lisa said exactly what Clive needed to hear!
Palmer has been widely criticised after firing over 200 workers from his Queensland Nickel refinery earlier this year, despite donating millions to his own Palmer United Party.
Wilkinson challenged Palmer about this asking, "Did you authorise Queensland Nickel to donate almost $6 million to the Palmer United Party at a time when nickel prices were already at a slide, and there was a freeze on jobs?"
"You've boasted about being a very rich man for a very long time", Wilkinson said after Palmer denied any wrongdoing. "Why don't you pay the entitlements for the 200 families?"
"Clive, you've sat yourself in front of a lot of very expensive yachts, you like to show off your wealth", she added. "Australia thinks you're a joke at the moment".
"You're a politician in federal parliament these days", Wilkinson said without holding back. "Is it fair to say that your stint has been at best an embarrassment – at worst a disaster?"
"You fall asleep in parliament, you often don't bother to turn up – your socalled Palmer United Party has imploded. You've betrayed the trust of everyone who believed in you – from Queensland Nickel to your Chinese (business) partners".
However, Palmer blamed any issues facing Queensland Nickel squarely on its administrators. He took no responsibility for any of the problems Wilkinson outlined.
Instead he answered, "I've been criticised in the press, (everything) is a fabrication by the Murdoch press and media. It's untrue".
Palmer was visibly flummoxed by Wilkinson's fiery approach, but many Australians are happy to see him getting some 'just desserts'.
As Today Show viewer said, "I think Clive Palmer is a bloody disgrace". Whilst another added, "imagine a world with Clive Palmer and Donald Trump in charge?"
Are you pleased by Wilkinson's upfront interview approach? Do you think Palmer needs to take responsibility for Queensland Nickel's problems? Watch the full interview yourself below:
.@Lisa_Wilkinson's full chat with @CliveFPalmer. More on Palmer TONIGHT in #9NewsAt6 https://t.co/s7xyDrSeDa

— Nine News Brisbane (@9NewsBrisbane) February 4, 2016
Comments