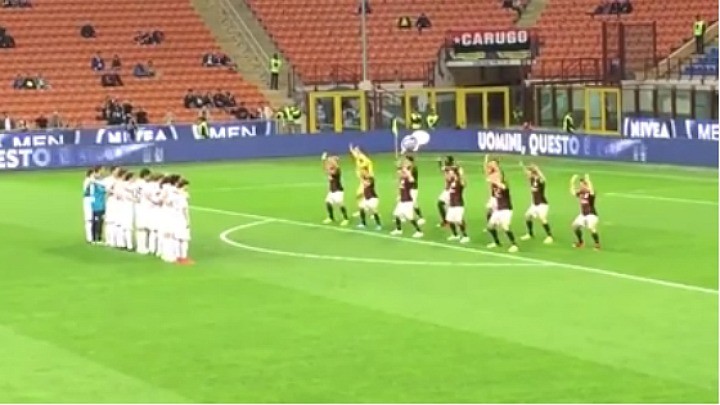 The haka is a source of pride for many New Zealanders and is revered around the world for its powerful display of strength and cultural history.
All of that seems lost on Italian football team AC Milan though, who put on a pathetic version of the war cry at a match in Milan overnight.
The team lined up to face their opponents wearing their team outfit displaying the Nivea logo.
Instead of showing strength and pride however, they put on a weak show complete with movements where they brushed their hands across their cheeks implying they were applying Nivea moisturiser to their faces.
They were also backed up by a PA system, apparently not having the gusto or voices to perform it themselves.
It was later revealed the performance was done by a group of paid actors hired by the team to promote their sponsor Nivea and their range of skincare products.
Why anyone thought that was a good, or acceptable, idea is still being questioned.
Fans took to social media to express their outrage, with many seemingly in disbelief about what they were seeing.
for some reason AC Milan saw fit to perform a haka before their match overnight. i expect NZ to declare war on Italy https://t.co/xZANcJcKNO

— Vince Rugari (@VinceRugari) April 21, 2016
Why the hell am I seeing pictures of AC Milan players doing the Haka before their game tonight? #embarassing

— Tom Hendricks (@TheTomHendricks) April 21, 2016
New Zealanders have lambasted AC Milan for the performance with many accusing it of being culturally insensitive.
These days, we mostly see the haka performed by New Zealand rugby team the All Blacks who are known for their powerful and moving performances of the ancient dance.
See how the haka should really be done below and tell us: what do you think about AC Milan's performance?
Was AC Milan wrong to perform the haka?
Comments