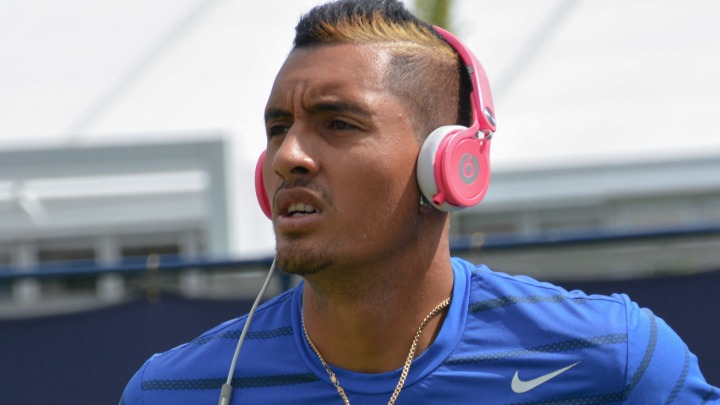 Here at Starts at 60 we're struggling to recall a time when a sportsperson demonstrated ongoing reprehensible behaviour that bordered on the unprofessional.
Yes, yes, we remember John McEnroe. Who could forget? But his actions were very much on the court… and sometimes he was justified.
It seems almost a coincidence that Nick Kyrgios is also a tennis player, because the behaviour of the 21-year-old Australian at the moment bears some similarities to the outrage spewed from McEnroe's mouth.
But while we tolerated McEnroe, people are growing tired of Kyrgios's antics and many are asking 'what's your beef?', especially when it comes to the ongoing feud between the tennis player and the Chef de Mission for the Australian Olympic Team, Kitty Chiller.
Things got a little tense when Chiller asked Kyrgios to explain his erratic on-court behaviour and show cause as to why he should be selected for the Rio Olympics.
In response, Kyrgios made himself unavailable for selection and claimed the Australian Olympic Committee "publicly and privately disparaged" him.
Recently, Kyrgios decided to throw more fuel on the fire by directing a tweet in Chiller's direction that has apparently enraged the Australian Olympic boss.
In case you weren't aware, Chiller is a former modern pentathlete — that means she competed in five different events involving fencing, 200m freestyle swimming, show jumping and the combined 3,200m cross-country run with pistol shooting combined.
She represented Australia at the 2000 Sydney Olympics, has been a national champion 12 times, has won seven World Cup medals and between 1996 and 1998 was the world number one in her sport. She finished in 14th place in Sydney, which is something of an achievement considering that prior to that the best anyone had ever finished was fourth place overall and that was in 1964.
Still, Kyrgios — currently ranked 18th in the world, which also happens to be his best ranking to date — thought such an achievement was worth his criticism.
"Haha she [Chiller] came 14th I don't think that counts as competing in the Olympics [sic]," he tweeted.
Chiller has since admitted that the tweet had affected her emotionally, but that her performance as an athlete should have no bearing on her ability to do her current job.
Is Nick Kyrgios being disrespectful with his social media messages? Would you like to see the tennis player attend the Olympics this year?
Comments