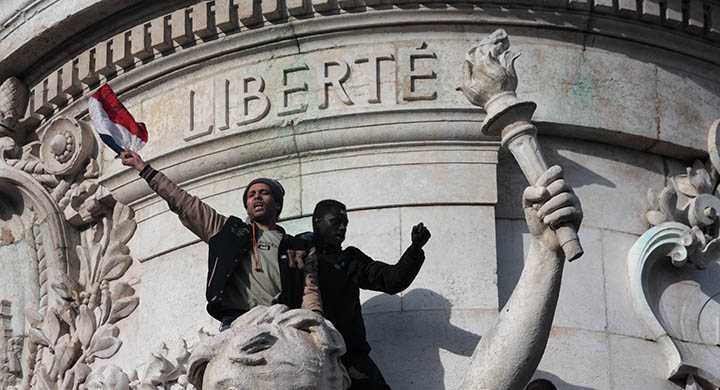 In 2001 we went to war against Osama Bin Laden, and called it The War on Terror. We killed the man and many of his militants chasing them under mountains and through villages with covert teams and clever technology. We thought we had won the war, but yesterday we learned that we did not. In fact, we proved beyond anyone's belief that the war needs more attention and that didn't kill his will to make innocent people suffer in demonstrations against western nations.
So what we have to ask at moments like this is what comes next? How do we use the solidarity of humankind against terror without inciting fear amongst everyday people, without sending peoples' children into ground battle in primitive battle? We have to ask what needs to be done to secure the safety of people in the world, those with homes and those without, who are being affected by these relatively new militant forces we know as Islamic State and have not really put up enough of a fight against. Clearly we are not doing enough to put the brakes on their will to cause terror and this fight has to be fought differently to the last battles.
Whoever is responsible for Paris have gone to a whole new level of organization that we have not seen in a long time and they have struck us right at our hearts.
The perpetrators are dead, in their eyes, martyrs. The community is spooked, unable to comprehend how a simple Friday night could turn into a truly black Friday the 13th. And the Islamic extremists are celebrating their defeat of good people.
The world has watched as one of its most celebrated cities is left with bodies in the streets and blood on the roads. People had rifles pointed in their faces, and grenades going off in their football stadiums. This is not meant to be possible.
Sitting back, it is like we've ignored the behaviour of the Islamic State for far too long, in the belief that they were affecting someone elses' world. We are much more comfortable with talking about Islamic Militants when they bring down planes over Syria, and cause displacement in other locations, just affecting countries that seem a long way away. But this changes everything, just like September 11 did.
Many of us have been to Paris, and feel a great empathy with the city. We know they are just like us, living their lives, going to work and enjoying concerts and football games like we would expect to.
While the G20 meets, the world outpours its solidarity on social media… but what are we all solid against? Do we even know who this fight is with and whether we are having the right fight? Is it with the scores and scores of homeless refugees who are nothing but lost in the world, or is it with the group that are making them homeless? Is it with the nasty extremeists or anyone who fosters the Islamic life?
Who is the enemy and what are we doing to stop them?
Is it time we escalated the War on Terror to a technological war that fights differently? 
Comments