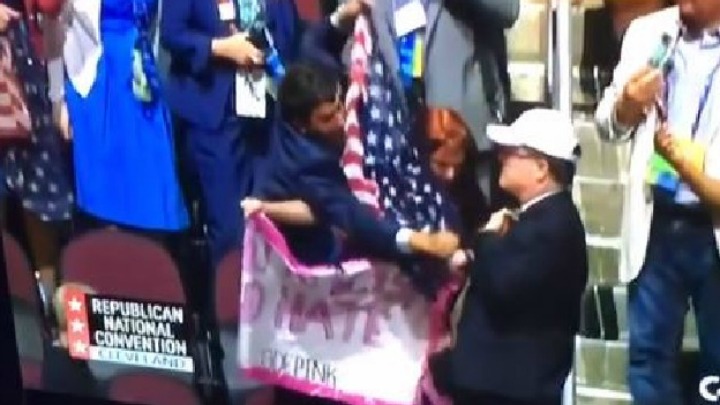 While the world has been watching the highs and lows of the US Elections with fascination, a video has surfaced that makes for uncomfortable viewing.
During the Republican National Convention in Cleveland this week, a woman entered the auditorium with a sign that read "no racism no hate."
CSPAN ran a live shot of the woman as she unfurled the banner and held it aloft.
The response of the Trump supporters infuriated many viewers who witnessed the moment on live television.
In the clip an elderly woman tries to rip the sign from her grasp. One suited gentleman repeatedly tries to cover the sign up with an American flag.
Singer Vanessa Carlton posted the video of the incident on Facebook, where it's been viewed over 34 million times.
Watch the full below:
The protester — a member of anti-war organisation Code Pink — was eventually escorted out of the convention.
"Two Trump supporters covering the woman who was holding up a banner that said "no racism no hate" with American flags. The symbolism alone is insane," Ms Carlton wrote in her original post on her Facebook page. "At one point an old lady tried to pull it out of her hands. She has every right to hold up that sign and if anyone who supported Trump could think straight they would realise that that is a sign that every human being should be proud to hold up. Tonight is a new low in this country".
What do you think about the way Trump's supporters are behaving? Is he encouraging bad behaviour towards fellow humans?
Comments