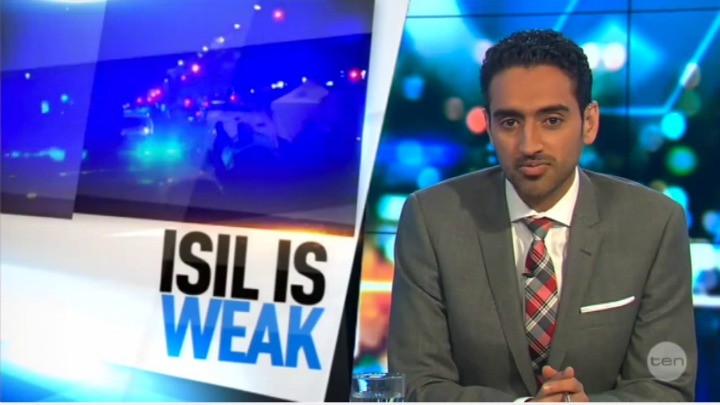 What's the best way to deal with someone who is swaggering around, boasting about their bravado? Put them down by exposing their vulnerability.
And that's just what Waleed Aly has done on The Project last night, declaring ISIL (ISIS) as weak.
His rant was an instant hit on social and traditional media, as the nation collectively fist-punched the air and said "take that"!
Aly says ISIL is trying to split the world into two camps and launch World War 3 – "A global war between Muslims and everyone else".
After explaining how ISIL commands terror around the world based on very little substance, Aly called for a unified response from "everyone else".
"We are all feeling a million raging emotions right now. I am angry at these terrorists. I am sickened by the violence and I am crushed for the families that have been left behind, but, you know what, I won't be manipulated. We all need to come together.
"I know how that sounds. I know it's a cliche but it's also true because it's exactly what ISIL doesn't want. So if you're a member of Parliament or a has-been member of Parliament preaching hate at a time when what we actually need is more love, you are helping ISIL. They have told us that.
"If you are just someone with a Facebook or Twitter account firing off misguided missives of hate, you are helping ISIL. They have told us that.
"I am pretty sure that right now none of us wants to help these bastards."
"They want societies like France and here in Australia to turn on each other. They want countries like ours to reject their Muslims and vilify them."
"ISIL leaders would be ecstatic to hear that Muslims have been reportedly threatened and attacked in England, America and here in Australia because this evil organisation has it in their heads that if they can make Muslims the enemy of the West, then Muslims in France and England and America and here in Australia will have nowhere to turn but to ISIL.
"That was exactly their strategy in Iraq. And now they want it to go global.
"Saying that out loud, it is both dumbfounding in its stupidity and blood-curdling in its barbarity."
Watch Aly's passionate speech here to see his theory on why ISIS is weak and can be defeated with unity. Do you agree? 
Waleed talks about how we can stop ISIL #TheProjectTVWritten by Waleed and Tom Whitty (@twhittyer)

Posted by The Project on Monday, November 16, 2015
Comments