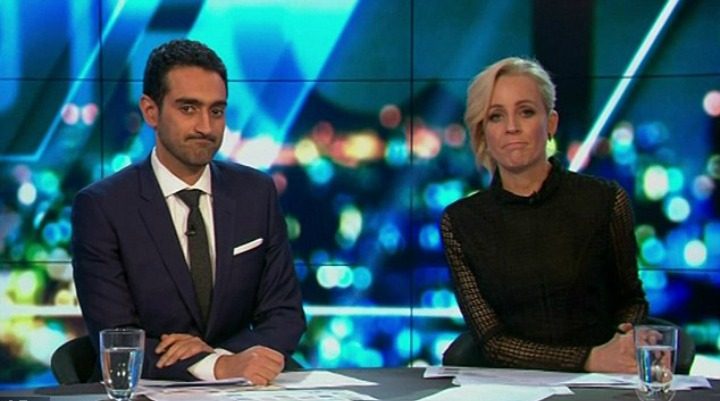 On last night's episode of The Project, Michael Jackson's former doctor Conrad Murray didn't stand a chance when he came up against witty co-hosts, Carrie Bickmore and Waleed Aly.
The disgraced physician, who was found guilty of involuntary manslaughter in the star's death in 2011, thought he was on the show to promote his tell-all memoir, 'This Is It'.
But what the former cardiologist didn't expect was that the pair were ready with their guns blazing, as they questioned Murray about his motives behind the tell-all book which reveals Michael Jackson's deepest and darkest secrets.
"Conrad, you've been convicted for the manslaughter of this man, and now you're telling all of his secrets in a book that you've named after the tour he would never perform in, This Is It. How is this all appropriate?" Carrie questioned Murray.
Murray, who has insisted he was not responsible for Michael's 2009 death from an overdose of drugs including the powerful hospital anaesthetic Propofol, promptly replied back: 'Well, it's not about telling secrets that he never wanted to have told, it's about our lives.
'There are a lot of things in my life and Michael's life that has never been shed.
'We have both had to struggle with those things, and Michael clearly wanted to have his story told in his lifetime. Nonetheless, he was definitely afraid that, as he opened his mouth, his own family would kill him.'
But Waleed didn't agree with Murray's answer and then asked the pop icon's doctor and confidant of three years: 'And your motivation on this? Is part of it that you need money and that you know that a book like this will provide that?'
Murray disagreed with the 37-year-old's question, saying: 'Listen to me. I have never made money a factor in my life. I made a lot of money in my life. I gave most of it away,' he said.
Adding: 'I've actively used – actually used money to support Michael. He was penniless. The home he lived in up till the last was rented on his behalf.'
But Waleed wasn't having it. The co-host asked the doctor turned author about his financial situation.
'You've been convicted of manslaughter, you've lost your licence to practice medicine. Is this your motivation?
Murray answered back: 'No. I could tell you that I've had much more than I have today, but my family and friends have kept me going, and I'm doing OK.'
His appearance on the Channel Ten show comes after Murray insisted he did not cause Michael's 2009 death from an overdose of drugs in an interview with the Daily Mail Australia.
Murray has blamed paramedics for Michael Jackson's death, describing them as "buffoons" for their mishandling of the singer in the crucial minutes after his overdose.
Since the singer's death, Murray has claimed he had been treating Michael for insomnia during rehearsals for his comeback tour, which was due to begin in London the following month.
Share your thoughts below.
Comments