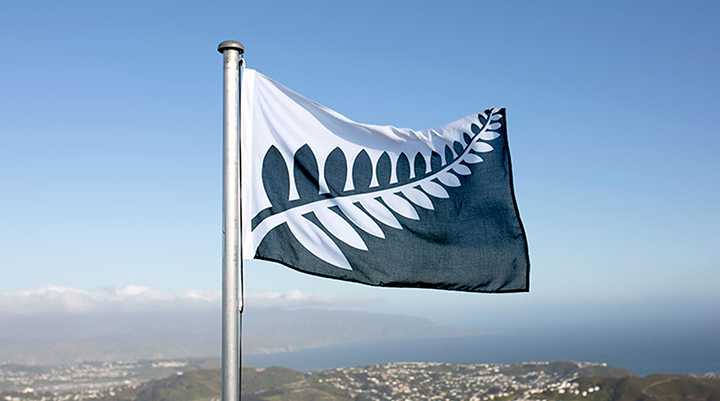 New Zealanders are coming together to decide on a new flag to adorn their poles, with voting on five different flag designs kicking off on Friday. New Zealanders are sending in postal ballots identifying which of the five flags they prefer. Now we want to know which you like…

Then, next year they will be asked to vote again on whether they want to replace the existing flag with the Union Jack on it.
10,292 alternative designs were suggested and four were selected by the Flag Consideration Panel but five concepts were loved, so Parliament extended the number of alternatives to five in the postal referendum.
It raises the questions here of which of the flag designs you like and think are representative of New Zealand, and whether you think New Zealand should replace their flag at all.  Many locals in polling say they should not be replacing the flag at all.
So today we ask you to take the poll here on which flag you choose, whether you think the NZ flag should change and whether you think the Australian flag should change.
It also gets people talking about the Australian flag and whether a change so significant across the ditch will help us see the possibility for change in our own flag.
Prime Minister John Key has said the current flag of New Zealand is not representative of modern New Zealand.  He also believes it is too similar to Australia's, but has admitted that polling indicates most New Zealanders would rather keep it.
Learn more about these designs, see them in context and meet the people who designed them.  (Left to right of the flags pictured above.
Silver Fern (Black, White and Blue)
Designed by Kyle Lockwood
"I thought a lot about how a flag would look on a podium, as well as flowing in the breeze. We are surrounded by sky and water and the blue represents that. The colour black reflects our past as well as our achievements, representing the pride and strength of all New Zealanders.
Red Peak
Designed by Aaron Dustin
"I created this flag to represent New Zealand's unique land, light and position. Inspired by Māori tāniko weaving patterns, the shapes and colours suggest a landscape of alpine ranges, red earth, and black sky. The design references Rangi and Papa in Māori mythology and the red triangle with a white stripe references elements of our existing flags."
Koru
Designed by Andrew Fyfe
"I wanted to represent not just this generation, but my children's generation and their children's generation. In Māori kōwhaiwhai patterns, the koru is based on a fern frond unfurling and represents new life, growth and peace. For these reasons the koru has crossed cultures and become part of New Zealand's visual language."
Silver Fern (Black and White)
Designed by Alofi Kanter
"I wanted something that is distinctive and uniquely New Zealand. To me, the silver fern has been our identifying symbol for over 100 years – black and white is a unique and strong colour palette. I believe our flag should reference where we have come from, acknowledging that the past informs our present and future and it's important to find that balance."
Silver Fern (Red, White and Blue)
Designed by Kyle Lockwood
"I've incorporated our proud heritage and history into this design which looks good now, and will endure a hundred years more. The Southern Cross represents New Zealand's location and the stars symbolise the islands of New Zealand. The silver fern represents the multiple cultures of New Zealand joining together as one and growing upwards and onwards into the future."
Tell us which flag you prefer today.
Comments