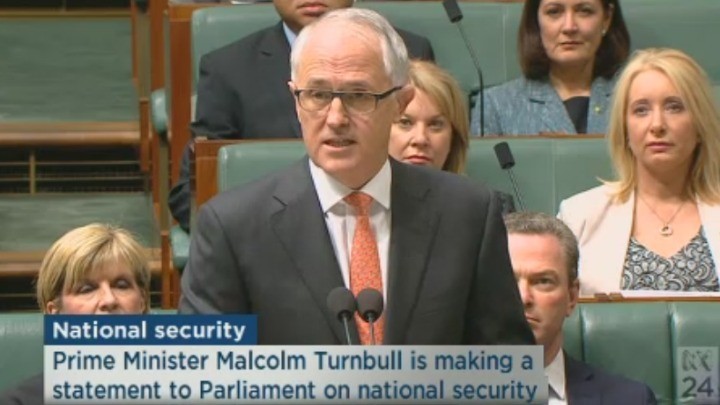 Who exactly was the Prime Minister talking to when he launched into his  first briefing on national and domestic security?
After offering his condolences for the people affected by recent terrorist attacks, Malcolm Turnbull did not mince his words: "This is not the time for gestures or machismo," he said.
In other words: we will not rush in with troops on the ground, even if there are members of the Liberal party putting significant pressure on the PM to do so.
Veteran political journalist Paul Bongiorno today wrote in The New Daily the Turnbull was at risk of  a Rudd-style undermining attack, led by dumped Defence Minister Kevin Andrews.
However, the PM appears to be standing strong, ruling out the possibility that Australian troops will be deployed on the ground in Iraq and Syria.
Instead, he says Australia's response needs to be "clear-eyed and strategic as it is determined".
"We should grieve and we should be angry, but we must not let grief or anger cloud our judgment," he said, adding that the "menace" must be defeated by being calm, clinical and professional.
Eloquently detailing the differences between this particular enemy and those of the past, Mr Turnbull explained that ISIL was weaker than they would have us believe.
"It had more smartphones than guns, more Twitter accounts than soldiers," he said.
"We must not be fooled by its hype."
Australia's existing presence in the Syria conflict is second only to the US, the Prime Minster said, more than any European nation.
He said that the 60 coalition neighbours would "disrupt, degrade and defeat" ISIL patiently and painstakingly rather than rushing into military action. He added that the Iraq government has told, and the G20 leaders had agreed, that a large-scale Western force would be counter-productive in the area.
"Ultimately," said Mr Turnbull, "we need to find a political solution."
Turning to domestic security concerns, Mr Turnbull acknowledged that there was a risk that terrorists in our region could be inspired by the events of Paris and launch an attack on Australians. He also said that the risk of a terror attack on our soil remains likely.
He reassured Australians that our security forces remained vigilant, and that we had the advantages of being in control of our borders plus strong gun laws.
"The tempo of our counter terrorism efforts has been increased," he said. Twenty-six people have been charged as a result of counter-terrorism efforts since September last year.
Mr Turnbull used the speech to announce a five-tiered National Terrorism Threat Advisory System that would inform Australians better of the risk we are facing.
"The adoption of a five-tiered threat system will also provide ASIO with greater flexibility in determining threat levels, reflecting the need to adapt to an evolving security environment," said Mr Turnbull.
In closing, the Prime Minister said that Australia would stare down terrorists in the way we always have: "The strength of our free people will see off these thugs and tyrants as it has seen off so many of their kind before."
What do you think of Malcolm Turnbull's stance? Does it make you feel safe? Would you prefer to see troops on the ground or are you happy for Australia to stick with airstrikes and training personnel? Do you think there can be a "political solution" to the scourge of ISIL terrorism? 
Comments