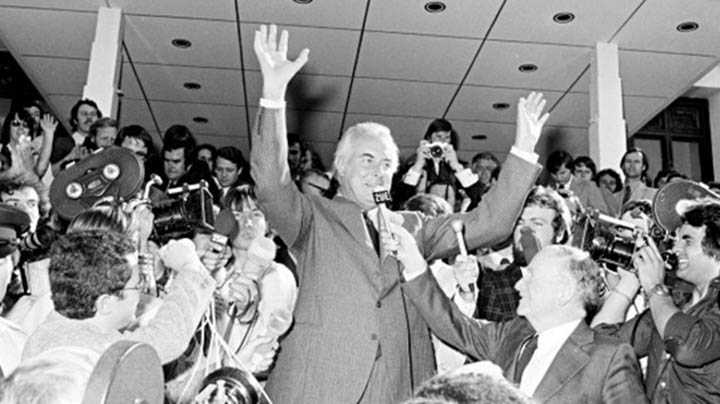 It's a big day in history. 40 years ago, The Dismissal occurred and much blood was lost in Australian Politics and it is blood that we all remember differently, even the politicians of the era. But today we need to ask how you remember it? Do you remember it the way Whitlam saw it with the Governor General showing a bias or differently?
Our Liberal PM launched a book about the dismissal of Labor Prime Minister Gough Whitlam this morning, poignantly called The Dismissal. And not a beat was missed in the opportunity by Turnbull, who used the moments in front of national media to ram home his message of economic stability being at the core of a tough recovery in difficult economic times. In fact, Whitlam's centre-left political position looks more close to Turnbull's centre-right position than some of the people in their own parties following todays speech and the analysis that is unfolding across the media.  Turnbull presented himself as a man with a social heart, and an economic mind, something Whitlam was also renowned for.
Malcolm Turnbull was a 21 year old writer in the period when Whitlam was dismissed, and his words from back then cannot go unread. But his words today showed an empathy with the Labor Leader that can only be borne of respect. In fact he called out situation as being handled inappropriately.
Turnbull firmly stated in his speech today that he believed that Sir John Kerr should have given notice of his intentions to dissolve government.
And his opinion hasn't changed for four decades.  The then 21-year-old Malcolm Turnbull wrote an article in the National Review smashing the governor-general's actions three days after the Whitlam dismissal indicating at his belief that the decision to dismiss the government was "not an act of last resort".
"By dismissing [former prime minister Gough] Whitlam he has condemned himself to an eternity in the history books portrayed as a villain," Mr Turnbull wrote back in 1975.
And it seems, Mr Whitlam concurred.  In a letter by Mr Whitlam to Martin Charteris (private secretary to Queen Elizabeth II) of 26 December 1975, Mr Whitlam accused the Governor General of favouring one political party over the other.  Here is an excerpt of the letter from the National archives.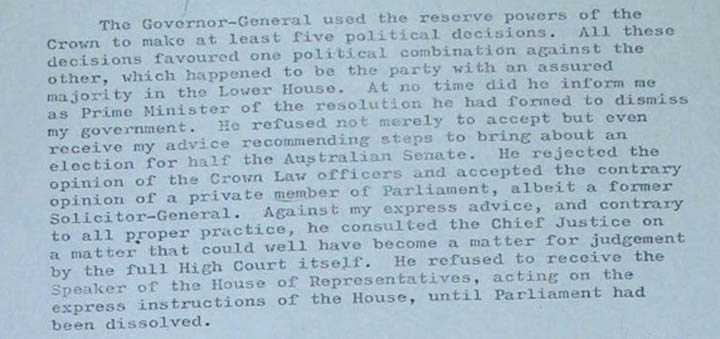 Anyone living in Australia in the 1970s will remember the period leading up to Whitlam's dismissal for it challenges and Turnbull was not afraid to align this period with the period preceding his own appointment to Prime Minister.  It was, not unlike last year in government, an economics-led debate that saw the country forced into constitutional debate over the Fraser Governments unwillingness to pass the budget, instead choosing to block supply.
Malcolm Turnbull today dredged up the old memories, saying he thought there were many secrets that go untold of the era, and that the crisis that ensured could have been managed much differently by Sir John Kerr.  He suggested, even back then, that the Governor General could have changed the path of history by publicly calling on the Liberals to pass supply bills or by telling Whitlam there had to be an election, and giving him a choice of how to approach it.
"The other option that Kerr should have explored … was to tell Whitlam there had to be an election and give him the choice of going into it as prime minister or leader of the opposition," Turnbull wrote in his 21 year old political insight piece.
Today's speech, without a doubt opened the can of worms again, and Paul Kelly, the author of The Dismissal was no doubt happy to see it opened.  Turnbull used the similarity of the situation to reinforce his concentration on the economic situation Australia finds itself in, rather than other political issues.
"Australia survived this crisis without civil unrest or violence exercising their power of democracy," he said.  "Ultimately people voted on economic management not because of the constitutional crisis.  He then went on to quote Bill Clinton's famous words "It's the economy stupid".
Looking back, do you think the decision made by Sir John Kerr should have been a different one?  Are you surprised to see Malcolm Turnbull defending the challenges faced by Gough Whitlam today? 
Comments