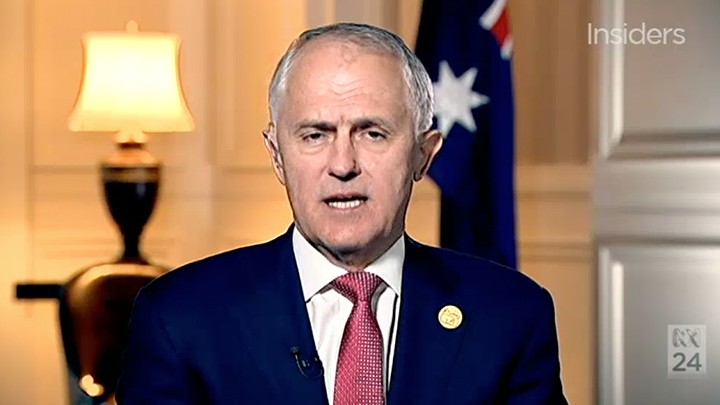 When terror attacks shake the world, as the brutal Paris attacks did this weekend, it's common for all world leaders to take a firm and immediate stance on national security.
All too often, the subject of refugees and immigration will – for good or ill – get thrown into the debate.
Where does Malcolm Turnbull stand? Speaking to Insiders on the ABC, Turnbull played down links between refugees and terror.
"In terms of refugees coming to Australia, they are all, as you know… carefully screened."
"I discussed this matter just a moment ago with the commissioner of federal police and director of ASIO, and while there have been some exceptions, the history of terrorist activities in Australia… is very much, for the most part, second and third generation Australians".
He said Australia would be standing "shoulder to shoulder" with France, and that there would be no reason to believe Australia was unsafe.
"At this stage, the advice is that there is no need to change the alert level that is being monitored constantly," he said.
"We cannot allow our national security or our national security policies to be dictated to by terrorists".
"We have strong and capable security services… They keep us safe at home and, so far as they can, when we are abroad".
"There's no reason to be complacent, but we have every reason to be assured that our nation is safe."
He also said he agreed with Indonesian president Joko Widodo, who suggested the Islamic State committed a "double crime" by associating their acts with Islam.
"They defame, they blaspheme, they defame Islam" said Turnbull.
""They are murderers. They are mass murderers. They are barbarians but at the same time, they also defame religion".
The Alfred Deakin Institute's Greg Barton, a Professor of Global Islamic Politics, told the ABC that Australia's situation was different to Europe's.
"We've got the luxury of properly, carefully vetting [the Syrian refugees'] IDs and their stories, carrying out background checks before they are accepted and doing things in an orderly fashion".
"European authorities are facing a wave of humanity — they don't have the luxury to do those things.
"Whilst, realistically, it would be foolish to acknowledge that there are no threats, it is also a risk to allow paranoia and anxiety to take hold at a large scale."
The international response to terror will be very high on the agenda at the G20 summit, which Turnbull is currently attending.
"This issue of a collective response of cooperation, of mutual support with a common purpose of combating and defeating terrorism of this kind has to be undertaken and it will be one of the major items on the agenda of this G20".
"It was always going to be, but it will be made more so in the wake of the shocking attack in Paris.
"Ultimately, there has to be a political solution. The military angle is very important, it is very important that Daesh [Islamic State] is confronted and defeated militarily.
"Longer term, the stability of Syria — the stability that will enable those millions of refugees to return to their homes— will depend on a political solution."
He also offered strong support of France's stoic response to the horrific events.
"An attack of this scale is always terrible to watch unfold. But at the same time, I was inspired by the resilience and the patriotism of the Frenchmen and women who, the stadium outside of which some of the bombs had been exploded, were singing their national anthem.
"It just showed the fact that free societies like our own, like Australia's, like France's, will not be cowed by terrorism, no matter how shocking".
Do you agree with Turnbull's response? Is this fitting, or is there more Australia should be doing?
Comments