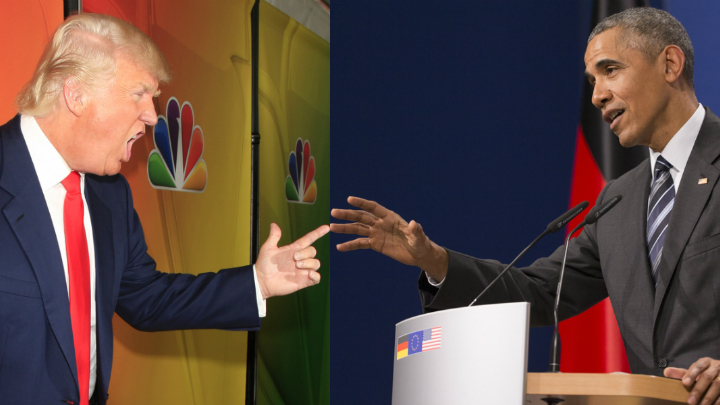 Donald Trump has made headlines again and this time it's because he called on Obama to resign and even implied that President Obama may have had something to do with the Orlando massacre.
"Look, we're led by a man that either is not tough, not smart, or he's got something else in mind," Trump said in an interview on Fox News.
"And the something else in mind — you know, people can't believe it. People cannot, they cannot believe that President Obama is acting the way he acts and can't even mention the words 'radical Islamic terrorism."
"There's something going on. It's inconceivable. There's something going on," said Trump, reports The Washington Post.
Trump was then asked to explain why he called for Obama to resign in relations to the shooting and he said, "He doesn't get it or he gets it better than anybody understands — it's one or the other, and either one is unacceptable."
In a separate interview, Trump who supports civilians owning guns, made his stance very clear, "If you take the guns away from the good people, and the bad ones are going to have target practice."
But at the White House, Obama said this, "The danger here is, is that then it ends up being the usual political debate.  And the NRA and the gun control folks say that, oh, Obama doesn't want to talk about terrorism.  And if you talk about terrorism, then people say why aren't you looking at issues of gun control."
"The fact that we make it this challenging for law enforcement, for example, even to get alerted that somebody who they are watching has purchased a gun — and if they do get alerted, sometimes it's hard for them to stop them from getting a gun — is crazy.  It's a problem."
On the tragic shooting incident, Obama said,  "Our hearts go out to the families of those who have been killed. Our prayers go to those who have been wounded. This is a devastating attack on all Americans. It is one that is particularly painful for the people of Orlando, but I think we all recognise that this could have happened anywhere in this country. And we feel enormous solidarity and grief on behalf of the families that have been affected."
"The fact that it took place at a club frequented by the LGBT community I think is also relevant. We're still looking at all the motivations of the killer. But it's a reminder that regardless of race, religion, faith or sexual orientation, we're all Americans, and we need to be looking after each other and protecting each other at all times in the face of this kind of terrible act.
"With respect to the killer, there's been a lot of reporting that's been done. It's important to emphasise that we're still at the preliminary stages of the investigation, and there's a lot more that we have to learn. The one thing that we can say is that this is being treated as a terrorist investigation. It appears that the shooter was inspired by various extremist information that was disseminated over the Internet. All those materials are currently being searched, exploited so we will have a better sense of the pathway that the killer took in making the decision to launch this attack."
Some people say that Trump is making these wild accusations to keep himself in the news which might benefit his business. Clearly, Obama is not paying any attention to his antiques.
Do you think it's fair for Trump to make such accusations?
Comments