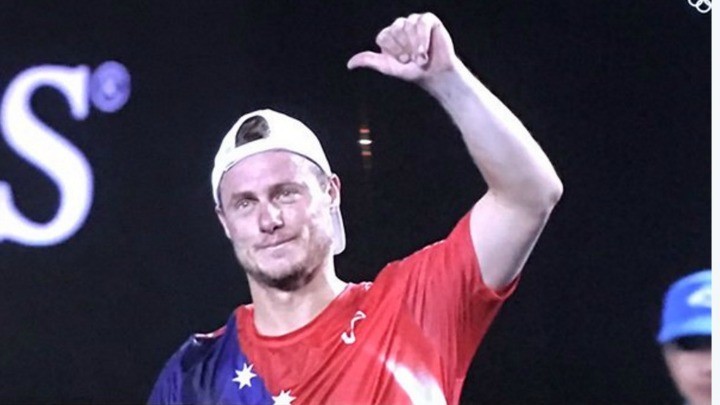 ICYMI (in case you missed it), Australia's tennis hero Lleyton Hewitt last night played his last grand slam, putting on a brief but perfect show that reminded everyone why he has captured the hearts of Australians for 20 years.
Lleyton lost to Spaniard David Ferrer in Melbourne last night in straight sets, 6-2, 6-4, 6-4, but he he battled on despite a leg injury, grunted "c'mon!" more than once, and even showed a flash of that feisty 20-year-old, telling an official "you're a freaking idiot".
But the 35-year-old was no match for the hungry young gun before him and he accepted defeat with grace and humility.
That's when the real show started. With the tennis out for the way, everyone could fully celebrate the man, his achievements and the remarkable journey that brought him to this point: from Australia's youngest number one to veteran player, and darling of Australian sport.
Surrounded by his three children, with his beautiful wife Bec in tears in the stands, Lleyton faced the warm embrace of the packed stadium. As the applause went on and on, the tributes were already rolling in, with players, fans, politicians and thousands of others sharing the love.
Tributes were flashed up on screen, including these from Federer, Kyrgios and Murray:
His opponent of the night, Ferrer said his opponent was his idol. "Lleyton fights until the last ball, he's unbelievable… Tonight is the day for him and not for me."
Standing on the court with Bruce McAvaney, Lleyton was clearly moved.
"It's the perfect place to finish," he said, thanking all those who had helped his journey.
In the compulsolry post-match press conference, Lleyton thanked hi wife and gushed about his children, saying they kept him in the game.
"[Fatherhood] is the greatest gift of life. It is amazing,' Lleyton said. "To have the kids and see them grow up… for me it has been extra special the last 10 years because they have been able to be on this journey with us as well."
Here are just some of the many tributes for Lleyton Hewitt – what do you have to add?
Thank you for the memories, @lleytonhewitt. Forever a champion. #HewBeauty #Wimbledon pic.twitter.com/LDahihRad9

— Wimbledon (@Wimbledon) January 21, 2016
Thanks for the memories @lleytonhewitt Open and Out https://t.co/aTPURanzoq #HewBeauty pic.twitter.com/0tZU1FZCT1 — Australian Open (@AustralianOpen) January 21, 2016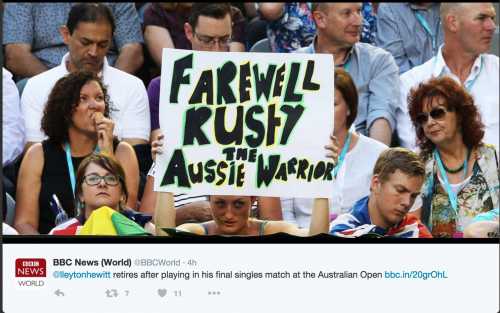 Well @lleytonhewitt we salute you. What a terrific ambassador for tennis but for everyone young wanting to achieve something. #tennis

— Madonna King (@madonnamking) January 21, 2016
A generation grew up with @lleytonhewitt and learned the power of never letting go A perfect goodbye A big thank you pic.twitter.com/qNpjbXc3Iv — Sussan Ley (@sussanley) January 21, 2016
Congrats on a stellar career @lleytonhewitt, 2003 Young #ausoftheyear. You've done yourself and your country proud. pic.twitter.com/HC17gn5GB5

— AusoftheYearAwards (@ausoftheyear) January 21, 2016
What are your fondest memories of Lleyton Hewitt? As prodigious teen, tennis champ or doting dad?
Comments