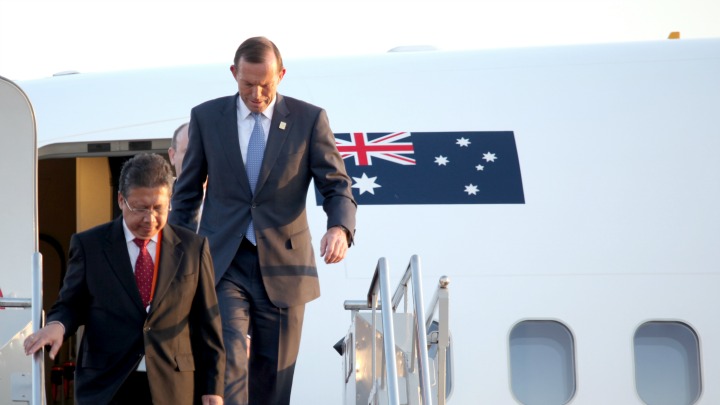 Tony Abbott is currently on a whirlwind tour around the United States, meeting with Barack Obama at an exclusive banquet and having private talks with the CIA spy chief. But some Australians are asking why the former PM is there at all.
Despite being dumped by his own party, Mr Abbott is continuing to make waves on the political stage, contesting his seat of Warringah and meeting with prominent international figures. Determined to keep a high profile, he has been vocal about his position and says he believes he still has a lot to offer Australian voters.
While in America, Mr Abbott reportedly discussed Islamic State and the fight against terror with the US director of National Intelligence James Clapper and said that America valued his opinion as a "senior" Australian.
"The Americans want senior Australians speaking strongly on important global issues," he said.
"They were very appreciative of the work done under my prime ministership and the work continuing to be done under the new prime minister."
One man who is particularly unhappy about Mr Abbott's US talks is Opposition Leader Bill Shorten, who has questioned the motives of the former PM.
"The real problem is who's pulling the strings in the Liberal Party? I am greatly concerned that Malcolm Turnbull may be the presentable frontman of the Liberal Party, but the people pulling the strings, their views are identical to Tony Abbott's and that's not good for Australia's future."
Mr Abbott's reasons for his US tour are still unclear to say the least, with many people speculating he simply can't let go of his former position of power as PM and is trying to cause trouble for new Prime Minister Malcolm Turnbull.
What do you think?
Is Tony Abbott trying to rock the boat of his own party? Should he retire from politics?
Comments