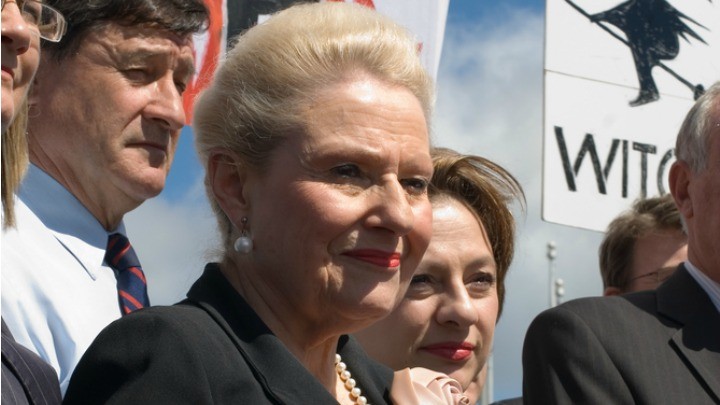 She's had a long and well-publicised career, but today could be the end of it all for former speaker Bronwyn Bishop.
The 73-year-old is fighting to retain her seat of Mackellar, which she has held for 22 years, as preselectors gather to decide who will take the position to the next election.
Ms Bishop has been campaigning to hold onto her spot, but has lost the support of many party members who say it's time for her to step aside and let someone new into the ranks.
Moderate state government staffer Jason Falinski and hard right candidate Walter Villatora are considered as the biggest threats to Ms Bishop, with Mr Villatora gaining the support of former PM Tony Abbott.
Mr Abbott and Ms Bishop once had a very close relationship with Mr Abbott describing himself as the "political lovechild" of Ms Bishop and John Howard.
Despite this relationship though, Mr Abbott ended up abandoning Ms Bishop and writing a letter of support for Mr Villtora instead.
Last week, Ms Bishop sparked controversy by saying she wanted to be the voice of Australian seniors and understood the "significance of seniors" at the voting booth.
Her comments sparked a heated debate, with some throwing their support behind her and others saying they just wanted her to step down and retire.
Ms Bishop famously resigned after it was revealed she had charged taxpayers $5,000 for a short helicopter charter flight between Melbourne and Geelong.
When discussing her bid to retain her seat of Mackellar for the next election, Ms Bishop's friend Professor David Flint told the ABC it was time for her to move on.
"She was certainly a very vigorous and strong member of Parliament," he said.
"There is a time, of course, when we all have to move on from our positions.
"She will be regarded very highly within the community, notwithstanding a minor peccadillo."
What are your thoughts?
Should Bronwyn Bishop step down and retire from politics? Or should she be allowed to keep her seat?
Comments