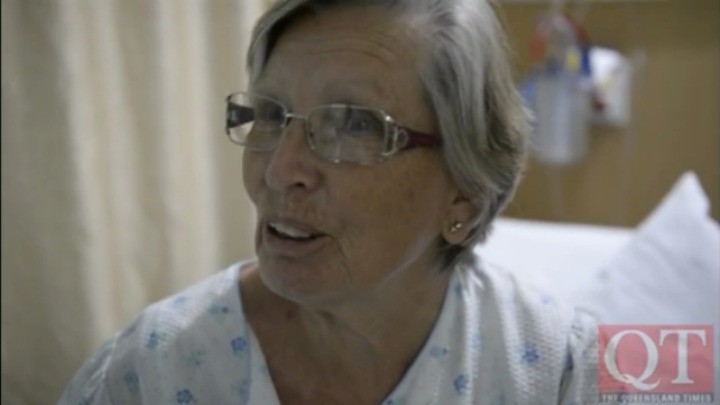 When Edna-Mae Green heard her peacocks making a commotion in the back yard, she stepped outside to investigate. Almost instantaneously she felt an "unbelievable" pain searing through her body. Edna-Mae had stepped on a deadly 1.8 metre eastern brown snake and it had reacted quickly, sinking its fangs into her foot.
"When I heard the commotion of the peacocks I came through the back door and the snake latched on to me straight away,' she told Daily Mail Australia.
"It was slow motion in a sense, he flattened his head which meant he was injecting. The pain was unbelievable, it was quick and painful and it didn't go away."
She kicked the snake hard but it reared its head ready to strike again. Thinking fast, she quickly moved back inside and tied a plastic bag around her leg, securing it tightly by twisting it closed with a pen. As if she wasn't in enough trouble already, when Edna-Mae tried calling for an ambulance she was left high and dry.
"I phoned triple zero and no one was answering so I got in the car and using one leg drove out to the highway," she said.
Realising she had no choice but to drive herself to the hospital, she jumped in the car and started the long journey. It wasn't long before she realised she wasn't going to make it alone. The venom was already moving through her body and she was feeling woozy and scared. Thankfully, she came across teenager Rebecca Crook parked on the side of the highway and pulled over to ask for help.
Rebecca took the wheel and drove Edna-Mae the rest of the way to the hospital even returning to the 73-year-old's home afterwards to lock up for her.
She says she owes her life to Rebecca and is so thankful for her quick thinking under such enormous pressure.
"She stayed so calm and helped me focus. She took my car home afterwards and locked up the house… She's an angel."
Staying calm in a life or death situation is not something that comes easy, but Edna-Mae says she was spurred on by a promise she made to her late husband.
"I couldn't die – I had to stay alive because I haven't finished my museum and I promised my dying husband that I will do it for him. He will do it, he will do it through me," she said.
"That's what kept me going. I've never broken a promise in my life and I'm not going to start doing it now."
Edna-Mae Green saved by teenager after being bitten by a deadly brown snake… https://t.co/KhEekfPfru #InfoNdoroTweet pic.twitter.com/LpRJe19Mkn

— Tommy Sanjaya (@bungtomsss) January 20, 2016
What do you think about Edna-Mae's amazing bravery? Have you ever had to think quick in an emergency?
Comments