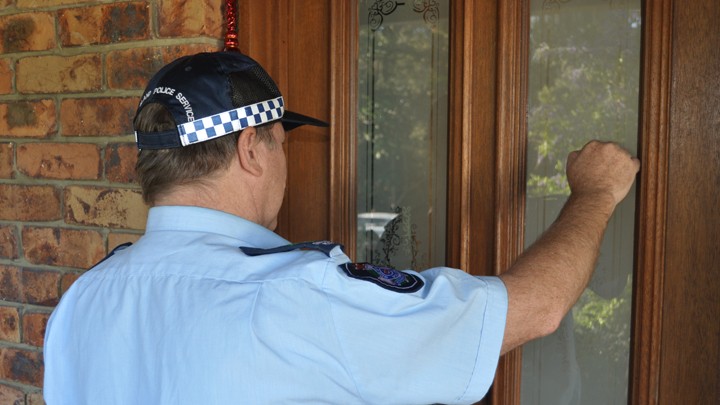 Every day, police officers deliver devastating news to families around Australia. The below poignant post from the Queensland police highlights how difficult it is for them:
"Walking up the driveway my legs feel as if they are made of lead. I'd give anything to be able to turn around. To not do this. But it's my job.
"My heart sinks as I think about what I'm about to do and there is a knot in the pit of my stomach that just won't go away. My mouth has suddenly gone dry and I hope that my voice won't fail me.
"I take several deep breaths as I steady myself and prepare to knock on the door.
"One thought sticks out in my mind- "I'm so sorry I have to tell you this". And I repeat it over and over again.
"I know how I feel is irrelevant- as I'm about to say the words that no one deserves to hear, and that everyone fears.
"I knock with hands that aren't quiet steady, and wait".
The post coincides with the release of new figures – 49 people have lost their lives on Queensland roads during the first two and a half months of 2016.
Assistant Commissioner Mike Keating of the Road Policing Command said safer driving habits will make a significant difference to road safety, and the road toll.
"Every person lost on a Queensland road is a tragedy of unimaginable proportions. Changing driver behaviour and habits can and does make a difference.
"We know that speeding kills, drink and drug driving kills, not wearing seatbelts or driving while fatigued or distracted kills".
By showing the public that their behaviour affects not only themselves, their family and the public, it also is an unbearable thing for the police officer to go through as well.
Within minutes of being posted on the QPS Facebook page, it had thousands of comments, largely praising police officers for having the "hardest job in the world".
Heather said, "I had that knock on the door. The Two policemen who came to tell me my husband had been killed at work. I had 5 children the youngest only 9.I will never forget them they were so compassionate. They stayed with us until all the family arrived .That was 1988 and I am forever greatful. That was so hard for them as they too had young families waiting at home. Thank-you Stay Safe". 
Another commenter Yvonne said, "Thank you QPS for keeping us safe, and doing a job that most of us don't realise the horror you all see day in and day out. All the Emergency Services needs our support at all times".
Tell us, do you admire the police?
Comments