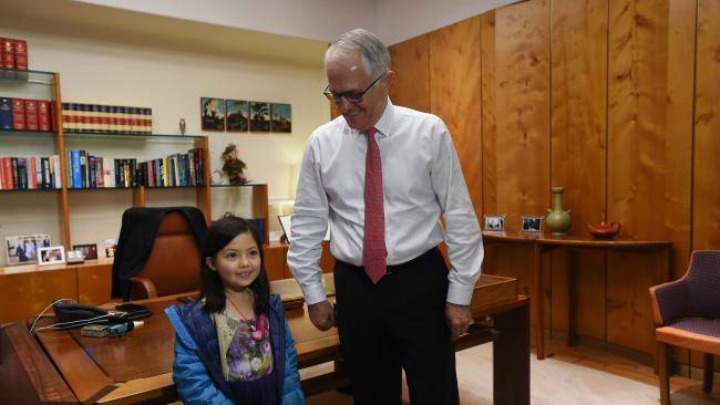 Malcolm Turnbull's made his way back into the nation's top role but he's been reminded of his legacy toppling Tony Abbott by a sweetly-spoken seven-year-old.
Mila Liu was accompanying her father, Walkley Award-winning AAP photographer Lukas Coch, to work as he was photographing Mr Turnbull the day after he claimed the election for the coalition, because her father was on babysitting duty during school holidays.
Mr Turnbull, spotting the little girl, asked if she'd met any other prime ministers before.
"Um, I've met Tony Abbott!" she replied cheerfully.
"Oh good!" Mr Turnbull replied.
"Then you've met lots of prime ministers then."
There was a brief moment of awkward silence when Mr Turnbull searched for conversation with the little girl.
"Well, it's great to see you," he replied.
Mila, born in 2009, has been through five changes in prime minister – from Kevin Rudd twice to Julia Gillard, Mr Abbott and Mr Turnbull. She's met all four, although the meeting with Mr Rudd was as a baby.
Whether or not the revolving door of leaders is the new normal for Mila's generation, the schoolgirl is keeping up with the changes, as is the entire population of Australia.
See the adorable video below:
Share your thoughts below.
Comments