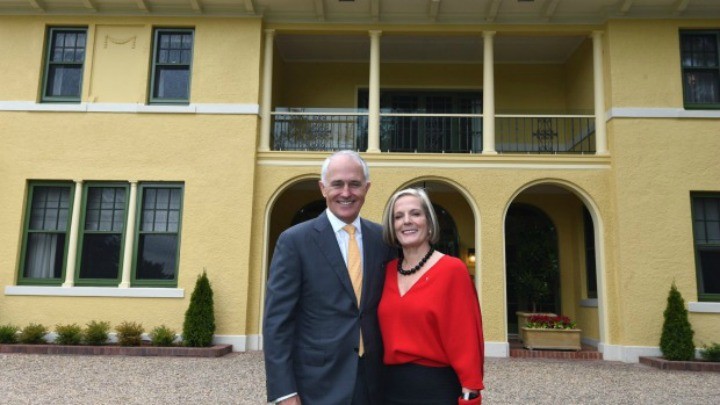 Renovations to the Prime Minister's residence in Canberra have now been completed, albeit 18 months overdue and three times over the original budget!
Commissioned under the former Labor government, renovations to The Lodge were expected to cost just over $3 million and be completed during early 2014.
However, when the federal Finance Department finally announced last month that renovations were complete, the budget had blown-out to a whopping $9 million.
The Lodge's newest residents Malcolm and Lucy Turnbull have also commissioned the restoration of heritage furnishings and artworks.
Restored furnishings include Enid Lyons' sofa from the 1930s, and Sir Henry Parkes' desk from 1880. Priceless works from the National Gallery of Australia have also been integrated into The Lodge.
Unfortunately, in a time where pollies tell voters "the age of entitlement is over", a $9 million renovation has left everyday Aussies seeing red.
One woman wrote online, "another smack in the face for the struggling Australian, their arrogance is unbelievable".
Whilst another woman added, "every time we get a new PM, they spend money decorating the Lodge. It's a ridiculous waste of money and an insult to the Australian people, especially the poor. It won't be their permanent home, so it shouldn't be re-done to suit the whims of these people".
One man even cheekily added, "well if the government can afford $9 million, then I just need $9,000 or so to renovate my toilet please? Cheers".
Do you think renovating The Lodge is a huge waste of taxpayer's money? Is it this budget blowout fair, especially when so many pensioners are struggling financially?
The Lodge: Lucy Turnbull's tour of the newly renovated Prime Minister's residence. ATORY: http://yhoo.it/1nFgq1d#TheLodge #auspol #7News

Posted by 7 News Sydney on Saturday, January 30, 2016
Comments