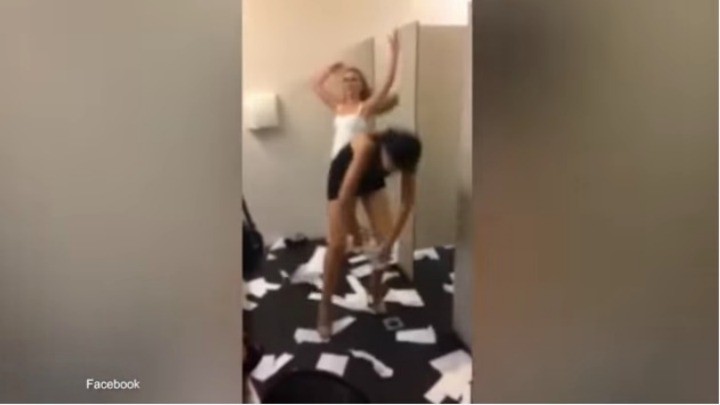 A young woman who danced for the camera while she trashed a public bathroom has gone on television saying her life is ruined and that she is considering suing the person who shot the video and uploaded it onto social media.
The woman below in a black dress appeared on 9News last night with her face and identity obscured suggesting she was the victim in this sordid tale.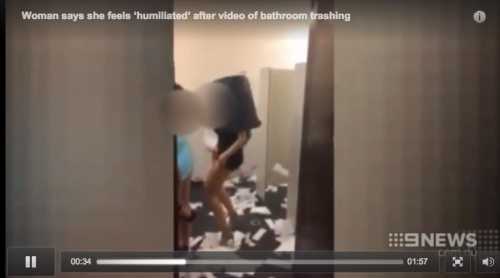 She and a friend upended a bin and threw toilet paper around in what appeared to be a drunken rampage. When the video hit social media, it quickly went viral.
In real life, the owner of the pub identified the girls and promptly banned them from the Perth hotel, but the real damage was done online, according to the perpetrator.
The 23-year-old told 9 News, "I've just been completely humiliated by the whole of Australia. (It's) pretty much every girl's worst nightmare."
She claims she received death threats and has been told she is "actually worse than ISIS".
The woman also tried to claim she didn't know she was being filmed and that she was considering legal action against the person with the camera phone, but the footage online shows her dancing for the camera and pulling down her top, almost exposing herself.
"We apologise for the way we were acting," she said. "[But] I'm pretty sure we have all done something behind closed doors that we would not wish anyone to see."
She says the comments the footage received had a significant impact on her mental health:  "I've never understood people that can get to the point that they want to commit suicide," she said. "But I completely understand now."
At a time when we are being called on to show more respect for women, tales like this show us that it's not just men and boys who need to be taught a lesson on respect – perhaps these girls need to think about the other people who use the bathroom, the person who has to clean up their mess, and their own reputations before they think about doing something like this again.
Do you think these girls are right to feel they are the victims in this sordid affair? 
Comments