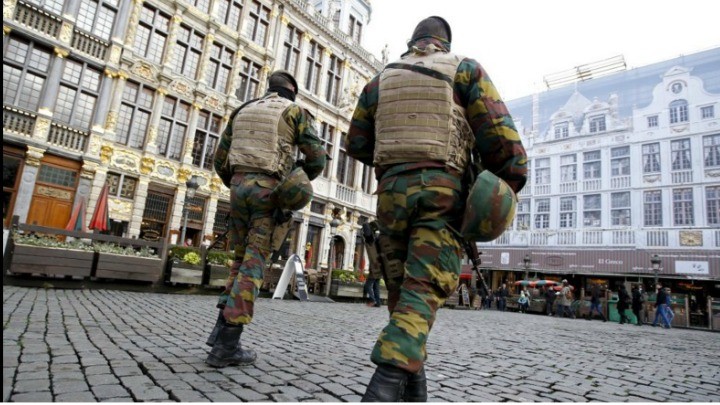 This incredible photo is doing the rounds of social media today as Brussels tentatively eases the lockdown of the city.
For three days the Belgian capital has been a ghost town patrolled by heavily armed soldiers in the face of an imminent terror attack. Residents have been told to stay indoors and to avoid crowds.
While countless events and gatherings would have been cancelled, one couple decided to go ahead with their wedding and their official wedding photos will have an fascinating back-story.
Instead of being surrounded by friends and family, the newlyweds were photographed in a deserted cobbled street, flanked by soldiers. The shoot was captured on Saturday by a Dutch tourist who shared his photo on Twitter and before long, it was trending all over the world:
Trouwen in #Brussel op 21 november 2015. Dat is zéker een dag om nooit te vergeten. pic.twitter.com/632jACQ5Wo

— Joris Marseille (@JorisMarseille) November 21, 2015
If you look closely, you can see that the soldier on the right can't help smiling a little at the moment of joy in an otherwise bleak and stressful time.
The Belgian government says Brussels will remain on the highest security alert until at least Monday, but schools and some subways will reopen on Wednesday.
When the lockdown started, the army had to ask residents to stop posting pictures of security forces to social media. Immediately, Twitter users responded in the best possible way…. with cats. Using the hashtag #BrusselsLockdown residents found a way to send messages to the terrorists, telling them what they thought of them.
This, dear outsiders, is how we fight terrorism here. They haven't got a chance! We haz kittens! #BrusselsLockdown pic.twitter.com/sdq1MbrKsz

— Gilles Bordelais (@Gilles_PPDE) November 22, 2015
#relax, Mes amis #BrusselsLockdown pic.twitter.com/LENxVUnnv9

— JaneAustenMaMaschio (@ExTimUpperClass) November 22, 2015
Ne Me Kitty Pas #BrusselsLockdown pic.twitter.com/ANPIj98Yr1

— Andy Carling (@quarsan) November 22, 2015
Join us in wishing the people of Belgium safety, peace and an end to the threat as soon as possible. 
Comments